OdinSchool is an upskilling platform that helps people launch, transform, and propel their careers in high-growth domains. We focus on effectively mobilizing skills, resources, and knowledge to produce candidates who can stand out in the hyper-competitive tech sector. We are also committed to becoming a trusted source of skilled talent for the Indian industry.

Job-aligned Bootcamps

Job-ready
talents

High value for industry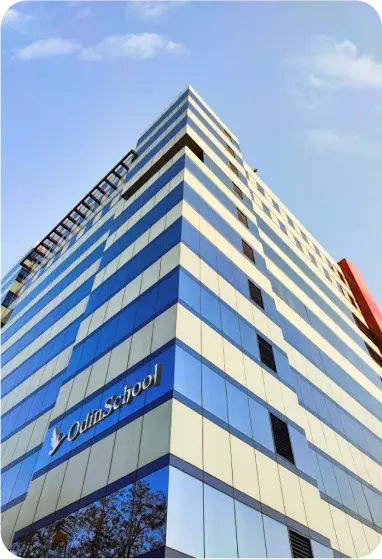 "At OdinSchool, we are on a mission to transform careers through upskilling for our students while providing a productive and skilled talent pool for our partner companies, ensuring that our learners are ready to contribute, from day one."

The team of dynamic professionals that powers OdinSchool has extensive experience in managing educational programs globally in multiple variants. We invest in teaching resources and technology to make learning more outcome-oriented, engaging, interactive, and on par with the dynamically transforming industry.

Company Vision
Become the best source of skilled talent in the country, qualitatively and quantitatively

Value for the industry
The most efficient platform to find productive talent trained in the most in-demand skills

Value for Learners
Access to rigorous hands-on training, culminating in the highest state of job-readiness
What we value
Excellence, transparency, and the zeal to become the best version of ourself
We deliver value to our learners through:
Live Bootcamps
Projects
Career Services
Placement Assistance

Vijay
CEO

Debajyoti
Business
Srini
Product

Shruti
Branding

Arvind
Corporate Relations

Rajesh
Marketing
Kulkarni
Admissions

Anushri
Counselling

Deepika
Placements

Suresh
Community

Prahlad
Product

Srinivas
Admin

Pooja
Student Success

Dilip
Marketing

Vivek
Alumni Office

Avinash
Support

Susanna
Human Resources

Prasad
Delivery

Sushma
Placements

Balachandra
Placements
Meet our
mentors and speakers!

Sarveshwaran Rajagopal
Sr. Data Scientist

---

Manish Kumar Singh
Data Scientist

---



Avinash Mishra
Data Science Manager

---



Anand Narayanan
Founder

---



Murlidhar Bhekane
Staff Data Engineer

---



Virendra Sharma
TEDx Speaker | Trainer

---



Nagaraju Chikoti
Sr. Product Engineer

---



Vishal Jain
PDM

---

Krishna Kumar
Data Scientist

---



Ark Mahata
Software Development Manager

---



Dr. Chiranjiv Roy
VP, Data Science

---



Partha Mukherjee
Managing Director
---



Dr. Sandeep Singh
Lead Instructor
---


Dr. Debojyoti Roy
Chief Data Scientist

---


Sukumar Honkote
Senior Technical Architect
---



Jyant Mahara
Data Science Lead

---



Uday Kiran
Web Development Trainer
---


Rahul Saha
Chief Data Scientist

---



Dr. Mohit Sewak
Principal Applied AI Researcher

---


Saurabh Ray
Data Scientist

---


Angshuman Bhattacharya
AVP - AI Solutions

---



Rajesh Gaurav
Associate Director

---



Sai Krishna Alishala
Founder & CEO

---



Anirudh Kasturi
Chief Technology Officer

---



Rishi Raj Singh
Co-founder

---



Somenath Sit
Sr. Manager - Data Science

---


Akshit Bhalla
Data Scientist

---