A Professor-Turned-Data Scientist - Nipun Gupta's Career Success Story
A Professor-Turned-Data Scientist - Nipun Gupta's Career Success Story
Nipun Gupta from Bhopal had a very fulfilling career as a professor. But, over the course of time, he realized that to be at the forefront of the advancements in the industry and to stay a viable candidate in the job market, one needs to upskill and reskill. Nipun decided to beat his career stagnation with a career in Data Science.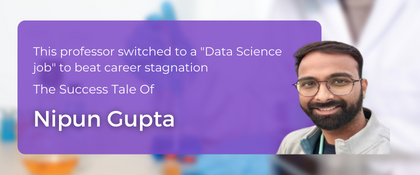 Today, he is a full-time Data Scientist at Ab-InBev, a multinational drink, and brewing company based in Belgium. His success tale is undoubtedly an ode to the importance of upskilling, especially in high-growth technologies such as Data Science.
Keep reading to find out how Nipun Gupta made his way to Ab-InBev, one of the leading companies in the world, as a Data Scientist.
A three-year stint at NPIU
Nipun holds a Bachelor's in Electrical Engineering from SVITS, Indore, and a Master's in Energy Engineering from the National Institute of Technology, Trichy. He was not an average joe with an engineering degree. Nipun did want to make a difference in the world with the top-notch education he received at NIT. After graduation, he had a three-year stint with the National Project Implementation Unit - a unit operated by the Ministry of Education.
National Project Implementation Unit (NPIU) is a unit that was established in 1990 for the facilitation and monitoring of quality education in the country. NPIU handpicks graduates from various IITs and NITs across the country and allocates them to various colleges in rural India to uplift the quality of technical education. There, Nipun got into a three-year teaching contract as an Assistant Professor. A project for three years, Nipun called it one of the most fulfilling times of his life.
The need to upskill
Of course, his experience with the NPIU has been invaluable in his career; the joys of teaching are unbeaten. But, a certain degree of stagnation had begun to creep up on him during his tenure as a professor. Even though he was an educator by choice, he still felt the need to further his skill sets.
"It became very apparent to me that my peers in the industry, who did actual jobs, were getting ahead of the game; they were more exposed to real-world problems than I was and thus had more opportunities to expand their skill sets. This is what encouraged me to switch to a full-time industry job. I knew that I wanted to be in a more challenging environment; this could only be brought about by a fast-paced job environment."
Fully aware of the potential of Data Science as a career path, Nipun went ahead to pursue OdinSchool's Data Science Bootcamp.
You may also want to read This Ph.D. Holder Switched To Data Science To Stay Relevant In The Industry
Enter Data Science
Nipun was well-acquainted with the demand for Data Science professionals and the dearth of skilled candidates in the job market. He was also familiar with the ropes and challenges of a Data Science job - his project on solar power generation forecasting had already exposed him to some fundamental concepts of Data Science and allied technologies. He thus began looking for a very rigorous, hands-on Data Science course.
"I was very particular about what I wanted from a Data Science course. After reviewing countless courses in the market, I knew that OdinSchool's Data Science Bootcamp was my best choice. They not only equip you with the most in-demand Data Science skills but also get you placed at top companies", Nipun elaborates on his quest for a good Data Science course.
You may also want to read From Assistant Professor To A Full-Time Data Science Professional: Shilpa's Successful Career Transition
The best part about the Bootcamp
"I was very new to the world of programming, but the classes on Python were quite rewarding. The project-based learning experience at OdinSchool really made up for my lack of industry experience. The technical sessions and workshops on interview skills boosted my confidence", Nipun reminisces.
"The best part about joining OdinSchool's Data Science Bootcamp was the confidence they instilled in me. There were instances where I had lost faith in my skills. But, the placement team believed in me more than I ever did and gave me the encouragement I needed to power ahead in my career", he fondly recalls his placement experience with OdinSchool.
Nipun didn't forget to top up his Bootcamp training with his own personal projects. Of course, the more hands-on experience with data, the better. Currently, he is busy learning new skills and expanding his horizons at Ab-InBev.
Would you like to build your own career success story in Data Science? Join OdinSchool's Data Science Bootcamp today to launch or upgrade your career! Apply Now.