Aeronautical Engineer to a BI Analyst @ Blend360 with 10 LPA! Lokesh's Career Success Story
Aeronautical Engineer to a BI Analyst @ Blend360 with 10 LPA! Lokesh's Career Success Story
Lokesh.R successfully transitioned his career into data science and became a BI Analyst at Blend360 with 10 LPA. His story proves that a successful career transition is not just a destiny's game but pure hard work.
Lokesh graduated in aeronautical engineering in 2002 and immediately went ahead to learn data science.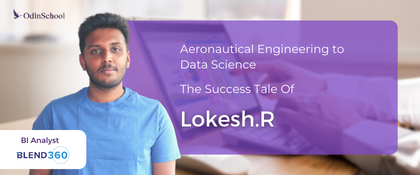 Switch from Aeronautical Engineering to Data Science
"While studying, "I realized that aeronautical engineering had not garnered much space in the Indian market. Though very passionate about this field, it did not look like a very viable option in the long term. However, during my graduation, I also realized that Data science is an ever-expanding industry that offers many career opportunities."
Thus, Lokesh started his search for a perfect data science course that would help transition him smoothly from a 'no coding' education background into data science. He zeroed on OdinSchool as he really liked the curriculum. The thought of a curriculum update every month as per the industry requirements was exactly what was required.
You may also want to read Nidhi Kulkarni's success story - From being a dietician to a data science professional!
Lokesh's Journey at OdinSchool
Lokesh felt very apprehensive initially, but as the course progressed and he got mentored by the top industry professionals, his doubts rested.
Lokesh's exact words, "I was lucky to have good mentors at OdinSchool where there were many doubt-clearing sessions; they helped me a lot to move out of my 'non-IT' feeling. They also helped me with overall personality development."
Lokesh's Advice for Data Science Aspirants
My only advice for all the non-IT graduates who feel apprehensive to join data science is this- if you have the problem-solving skills and the logical ability, then it is more than sufficient to learn data science.
Practice will make all the difference. It doesn't matter if you already have the coding knowledge; practicing the code and core concepts will create a huge difference between you and other interviewees. Spend time with Python, Spend time with logic-building problems.
Even as a fresher, you are expected to have at least intermediate knowledge of visualization tools.
It is very important to concentrate on your project, as it is like an evaluation tool for an interviewer; it shows a company your ability to apply all your concepts. Other than the capstone projects, it is always better to practice some additional use cases.
Please don't mention any fake projects. It is a very big risk to take.
Other than technical knowledge, your personality and attitude in the interview would also be judged. Pro-activeness and your ability to handle pressure carry most of the weightage.
Found this story inspiring? Want to build your own version of this career success story? Join OdinSchool's Data Science Bootcamp today!