Big Data The Creator Of Big Job Opportunities
Big data has evolved as one of the greatest trends in the IT industry. It is expected to grow endlessly in the years to come. Big Data-driven decision-making and data management is the no longer a new buzzwords in job circles. Explore more.
Big Data has come out of the phase when it was just a mere buzzword to the world. An augmentation in the application and high demand for Big Data has led to the need to handle it in the best possible way. This is the reason why the analysis of Big Data is on the priority list of IT sector recruiters and job applicants alike. This technique helps in improving business operations and the prospects of the right decision-making. It also gives client organizations an edge over their competitors.
For Big Data professionals who possess expertise in Analytics, there are ample opportunities in the prevailing market.
Big Data Prospect
As per a report by International Data Corporation (IDC), the market for Big Data is expected to touch a whopping $46.34 billion by 2018. The Big Data market is all set to showcase a strong growth in industry verticals pertaining to infrastructure, services and software in the next five years. The predictions made by IDC are indeed optimistic. According to their research, accessibility to the right skill levels and Big Data talents will generate a positive impact upon the market. Here, the vice-versa seems to be true too - a particular skill's demand is bound to initiate its unprecedented growth too.
Implementing Big Data
According to a survey by Knowledgent on Big Data, it is clear that Big Data is heading out of its experimental stage. During the survey, several respondents presented their beliefs that Big Data is going to get utilized in the production industry. More so, over 60% of respondents were of the view that Big Data is extremely essential for their respective organizations. There were more than 25% respondents who stated that they have already applied Big Data solutions to their organizations. Others mentioned that they would be implementing the same within a span of less than 6 months.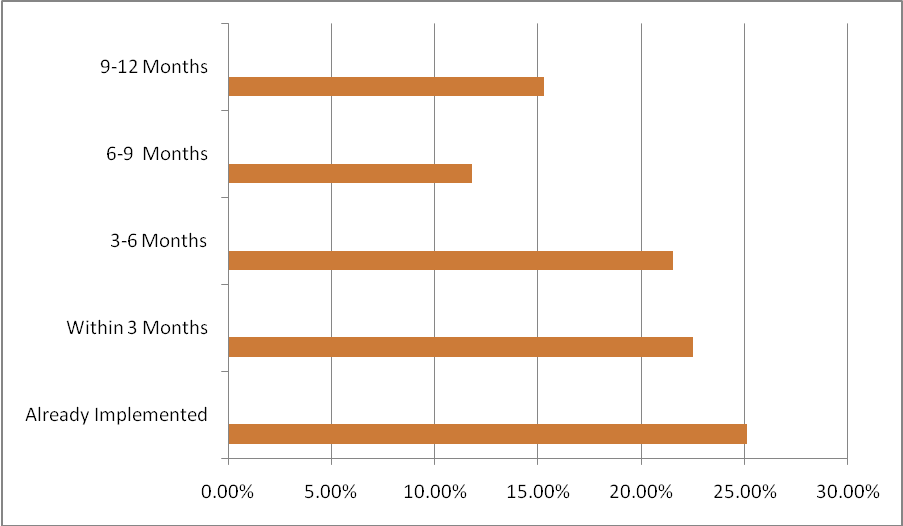 Big Data Survey by Knowledgement
Demand for Skills in Big Data
As already mentioned, with the Big Data market soaring like never before, the demand for skilled workforce in this field is also increasing. Nowadays, companies have accepted and acknowledged the importance of Big Data and its analytics. As a result, they are constantly on the lookout for those who are capable of comprehending such skill-based areas to perfection.
As revealed by a report by Wanted Analytics, during the first half of the year 2015, Big Data skill was stated 112469 times. This figure represented a rise of 118% over the earlier year. Along with Big Data, Hadoop served to be a tremendously broad area that was stated 31274 times during the same time frame.
According to a prominent Big Data research by IDG Enterprise, in the upcoming 10 to 12 months, companies have planned to devote capital to various Big Data skill sets. The report has been presented through this figure provided by IDG Enterprise Big Data Research.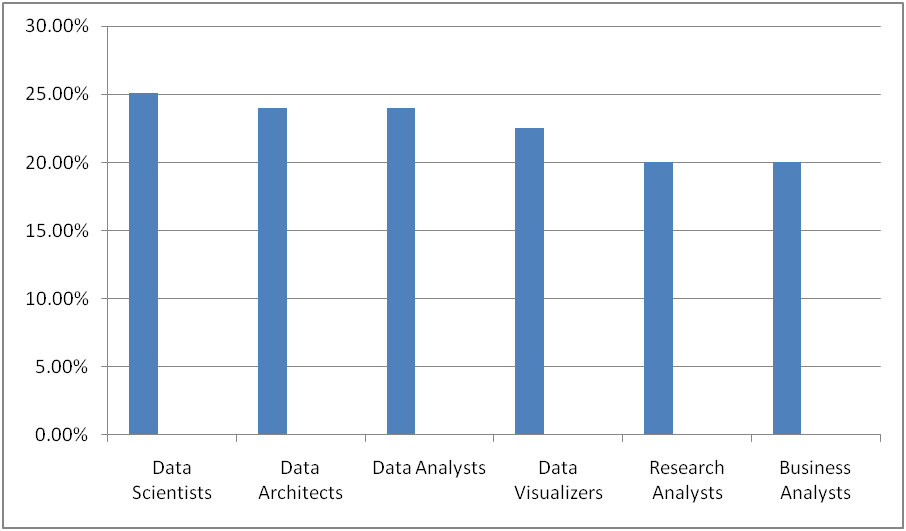 IDG Enterprise Big Data Research for Job Openings


Big Data Skill Gap
Although the demand for skills in Analytics is growing progressively, there exists a huge shortage on the supply side, globally. Taking US prospect, McKinsey Global Institute's recent survey has revealed that the nation is all set to face a deficit of approximately 200000 data scientists. Alongside, up to 1.5 million analytics in Big Data are expected to fall short by the year 2018. At present, India proudly possesses the highest absorption of data analytics when compared to other parts of the world. Despite this fact, there is an acute insufficiency of professionals who are skilled in data analytics. This is expected to increase even further as more and more international companies are outsourcing their work to India.
Big Data Analytics: Growing Adoption
Over the past few years, the trend of implementing Big Data Analytics tools has depicted an exponential movement. This is especially due to the fact that these analytics tools are helping organizations gather a competitive edge over their rivals. Talking about the tools and functionalities pertaining to Analytics in Big Data, the Apache Hadoop framework has proved to be the most popular selection. According to a "Peer Research- Big Data Analytics Survey" results, more than 50% of respondents have installed or are presently deploying a Hadoop distribution.
The chart below depicts the adoption of different big data tools by organizations.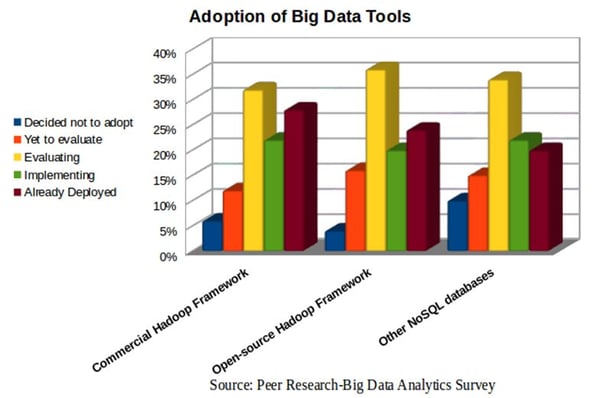 Along with the growing momentum of this revolutionary data management technique, career opportunities for IT professionals are also on the rise. This is considered to be an apt time for collecting and implementing the required skill sets for landing on Big Data jobs; the reason being that many more companies are rushing for Big Data skilled personnel.
There is absolutely no confusion about the fact that when you possess Big Data skills, your position in IT jobs market improves significantly. So, linger no longer and start improving your Big Data related skills today!