Data Science Jobs in India | Companies, Salaries, Career Prospects (2023)
Data Science Jobs in India | Companies, Salaries, Career Prospects (2023)
Summary
In this article, Anbu Joel has talked about the future scope of Data Science in India. Data is frequently described as an organization's "future oil," and analytics have evolved into engines that enable firms to derive critical insights. Anbu has also mentioned how important Data Science is in terms of your current career perspective. He has very efficiently mentioned top Data Science job trends which are nowadays ongoing in India and so much more.
Being a Data Scientist has been a successful career choice during the last few years. Read on to know more.
The Economist made news in 2017 by proclaiming, "Data is now the world's most valuable resource, not oil." Initially, this comparison might seem a little strange, but if we look closer, we'll discover that data has taken the position of oil, which was once a vital resource for corporations. Data has become more crucial as the business world moves closer to digitalization.
Data Science Scope in India
Data is sometimes referred to as the "future oil" for organizations, and analytics have developed into engines that propel enterprises to derive essential insights. The potent combination of both is driving the development of data science applications in the future. Companies worldwide are creating innovative methods to harness data and use this powerful tool to advance their businesses.
There is a sizable job market for data scientists due to the requirement to utilize this enormous amount of data and the large input of data. Data science has opened up a whole new range of work opportunities, according to the Harvard Business Review, which called it "one of the sexiest jobs in 2021." The demand for data science jobs has increased drastically in India. Particularly in a developing country like India, there is an opportunity for large data-related activities, including data scientists, data analytics, big data engineers, big data managers, and data architects.
Information is the oil of the 21st century, and analytics is the combustion engine.
Importance of Data Science in India
Being a Data Scientist has been a successful career choice during the last few years. In addition to the growing importance of data and the desire to improve it, several additional factors have increased the demand for data scientists in India.
Below are some of the factors discussed to get data science jobs in India:
Low Entry Requirement
Due to the fact that this industry is more recent, professionals there face less competition. A career in data science is open to professionals with various backgrounds, including computer science, engineering, natural science, mathematics, and statistics. Success as a data scientist only requires a problem-solving methodology and strong programming abilities, both of which you may pick up along the way.
So, if you have a talent for problem-solving, combine it with the OdinSchool Data Science Bootcamp and start along this lucrative professional path. Our courses will help you to get data science jobs in India, even as freshers.
Great Salary
Accept that the majority of us yearn for the union of respectable pay and a desirable job description. At the moment, jobs in data science are among the highest-paying ones. For new hires as well, the typical remuneration for a data scientist is between INR 6,00,000 and 12,00,000. This encourages more experts' rising interest in data science.
Covid -19
The majority of processes began taking place online as Covid-19 spread throughout India. Due to the fact that everything was conducted online, a substantial amount of data was produced through these procedures, which expedited the development of data scientists in India.
Recent increases in e-commerce platforms, online transactions, and the number of students choosing online courses have all led to the requirement for extensive data analysis. This has increased the potential of data science in India in the future.
Read about How Dr. Drakshayani, a Ph.D. Holder Switched To A Full-Time Data Science Job To Stay Relevant In The Industry
Top Data Science Skills to Learn to upskill
Mathematics
Possessing strong computational abilities might make you stand out from the crowd. Understanding algebra and calculus are advantageous because they are used in machine learning and deep learning. The capacity to analyze and visualize data to get insights is facilitated by having a solid understanding of statistics and probability.
Programming
Learning programming languages that are widely used in data science, such as SAS, Python, JavaScript, Hadoop, and R, will provide you an advantage over others because you will be able to easily complete your work by utilizing a few lines of code.
Domain Knowledge
You must take part in numerous online competitions and supervised hackathons as a committed data science enthusiast to develop the skill of transforming unstructured data into actionable insights. Top data science businesses give a lot of traction to work that is published on GitHub under directed oversight.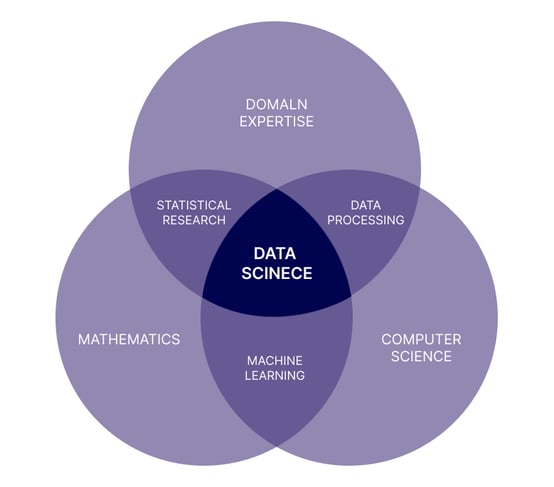 How to choose the right course for you?
Be certain of your career goals after studying data science. An engineer, an architect, a statistician, or an analyst?
Determine whether learning data science will benefit your present skill set.
Consider the time you are willing to invest in the course when planning your budget. Speak with previous course participants to get their feedback.
Check to see if the course offers fundamental statistics and data science knowledge. Verify the course's certification.
Check to see if the course is worth a penny.
You will get all these in one stop at OdinSchool; we make learning and getting a job in the data science industry easy for you.
How has data science impacted various Indian sectors?
HealthCare
Everything relating to health, patients, and ailments is included in this phrase. From quicker diagnosis to medical research, data science has started to play a significant role in this area. It facilitates both drug research and image analysis. Data science has also been found to enhance customer service and assistance.
Banking and Insurance
Especially for lending and insurance companies, banks collect a wide range of personal information, such as customer profiles, previous applications and transactions, and many other elements. If used appropriately, this data can, among other things, reduce fraud and be used to assess loan risk.
Data science is vital in this situation since it speeds the process and distinguishes between parties with low and high risk. Based on these forecasts, bankers can choose loan applicants without difficulty. Insurance firms can prevent financial fraud in a similar manner.
(You can find Data Science Professional Salaries (in lakhs) vs different sectors in the graph below for 2020, 2021, and 2022)

Marketing
With all the information available to you, you may analyze it to choose your target market and effectively sell your service or product. Aiming to convert potential leads into paying customers, advertising efforts employ the data to give demographic and interest-based targeting.
Airlines
The airline sector uses data science to examine aircraft trajectories and itineraries. In order to promote customer loyalty programmmes, predict and evaluate potential timing delays for flights, and reduce operating expenses while boosting profitability and occupancy rates, airlines turned to data science. Decisions regarding everything from the stops between destinations to the planes to obtain the maximum return on investment are made using the results of the data science algorithms.
Automobile Industry
The auto industry is currently moving forward with the development of driverless vehicles for the market. The technology has only been tested by a few businesses, and it is continuously being improved and evaluated.
Data science, machine learning, and artificial intelligence all have major roles to play in this prospective endeavor. This kind of experiment can only be successful if all the information about where things are, what they are, and how they are made available to technology.
Data Science Job Trends in India
Data Science Salaries in India
The names of the top data science companies are listed below, together with the typical basic wage that each of them offers for data science jobs salary in India, according to Ambition.com.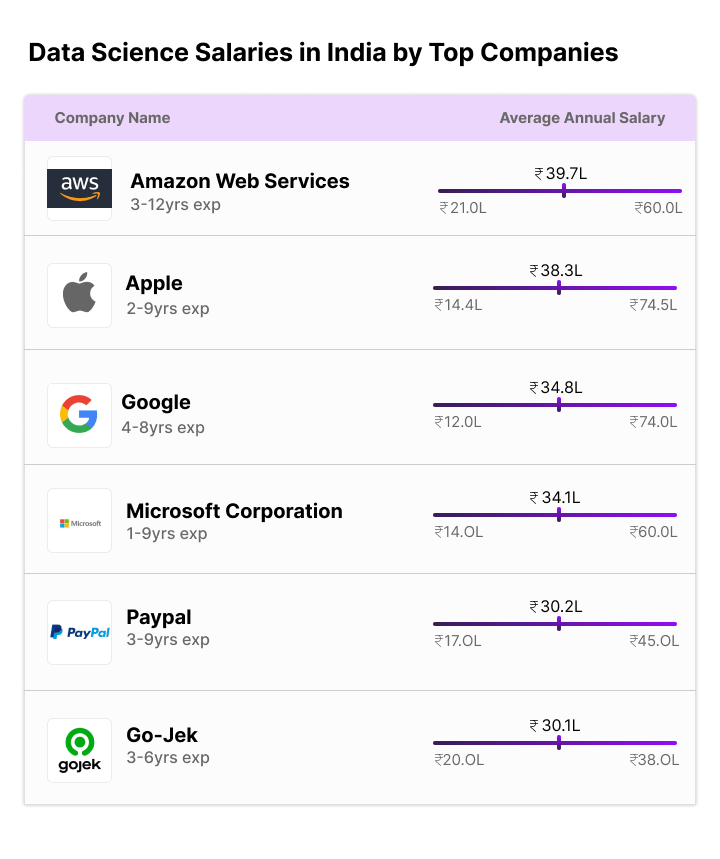 | | | | |
| --- | --- | --- | --- |
| | Work Experience | Average Salary | Salary Range |
| Amazon Web Services | 3 -12 yrs | ₹ 39.7LPA | ₹ 21.0L to ₹ 60.0L |
| | 2-9 yrs | ₹ 38.3LPA | ₹ 14.4L to ₹ 74.5L |
| | 4-8 yrs | ₹ 34.8LPA | ₹ 12.0L to ₹ 74.0L |
| | 1-9 yrs | ₹ 34.1LPA | ₹ 14.0L to ₹ 60.0L |
| | 3-9 yrs | ₹ 30.2LPA | ₹ 17.0L to ₹ 45.0L |
| | 3-6 yrs | ₹ 30.1LPA | ₹ 20.0L to ₹ 38.0L |
Salary offered according to the location:
The demand for the relevant skill set and the cost of living in the city, in general, determine the compensation that top data scientist firms in India pay. We have listed a few Indian cities in decreasing order of the salary they give based on these two criteria. The top five cities in India in terms of salaries are listed below.
Mumbai: Known as one of India's priciest cities, Mumbai typically pays somewhat more than the sector average. People in India understand the possibilities that Mumbai offers. The same is true in the data science field, which is why this city is one of the top ten in India for Indians searching for good data science jobs.
Data Science professionals' salary in Mumbai ranges between ₹ 4.2 Lakhs to ₹ 22.5 Lakhs, with an average annual salary of ₹ 10.0 Lakhs (0-8 years of experience).
Bengaluru: In terms of data science, India's IT capital has a lot to offer. In addition, this city was among the first to hire a Data Scientist. The growing start-up culture has resulted in more Data Analytics opportunities.
Data Science professionals' salary in Bengaluru/Bangalore ranges between ₹ 4.6 Lakhs to ₹ 24.0 Lakhs, with an average annual salary of ₹ 10.5 Lakhs (0-8 years of experience).
Gurgaon/Gurugram: Cyber City in northern India is another growing IT center. There are unlimited opportunities for Data Science Professionals to progress, especially in start-up enterprises.
Data Science professional salary in Gurgaon/Gurugram ranges between ₹ 5.3 Lakhs to ₹ 24.0 Lakhs with an average annual salary of ₹ 13.1 Lakhs (0-8 years of experience).
Hyderabad: Another rising IT center is this gorgeous Indian city. Recently, the city has made opportunities available in data science, artificial intelligence, analytics, and other sectors. This is demonstrated by the increasing number of start-ups.
Data Science Professionals' salary in Hyderabad/Secunderabad ranges between ₹ 4.0 Lakhs to ₹ 20.5 Lakhs with an average annual salary of ₹ 8.4 Lakhs (0-8 years of experience).
Pune: Pune has long been India's primary IT industry site, thanks to its rich educational and historical background. Start-ups have opened operations in Pune, offering significant opportunities in software development and data science.
Data Science Professionals' salary in Pune ranges between ₹ 4.0 Lakhs to ₹ 20.0 Lakhs with an average annual salary of ₹ 8.6 Lakhs (0-8 years of experience).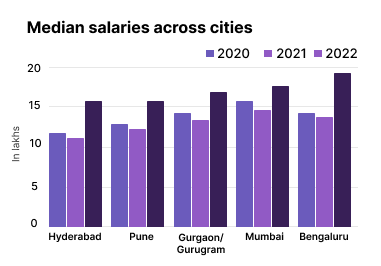 Conclusion
To summarize, it is reasonable to declare that data science is the technology of the future after completing a considerable study and inferring the facts provided above. As businesses become more reliant on data-driven choices, the need for data scientists and corresponding employment opportunities is expected to rise.
It's easy to learn and upskill with OdinSchool, as we offer an excellent Data Science Bootcamp that can help you start your career as a Data Science Professional. Apply today!