Job Analysis : Business Analysts and Project Managers
Job Analysis : Business Analysts and Project Managers
Picture an ideal employee. What key traits would you see in him/her possess?
The ability to do multiple tasks, embrace new and complex challenges along with updating skills to keep up with changing times.

Well, when it comes to project managers and business analysts, these are traits aren't just a plus, these traits are a necessity.
Project managers have to be open to learning new technologies and professional skills required to manage different roles and to overcome key challenges that come up in their projects. Very often, these projects revolve around revenue generation funnels and business plans that have monetary constraints, metrics, and goals.
It is essential for a business that there is research into better business revenue models and that business processes are optimal in design. Who takes care of all this? The Business Analyst.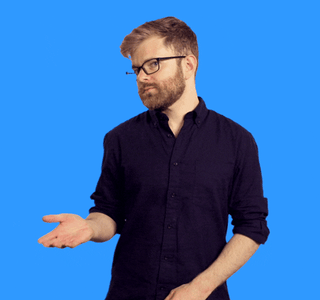 Who would you rather be? A Project Manager or a Business Analyst?
Who is a Business Analyst?
A Business Analyst (BA), in general, is a person who is assigned to explore opportunities to bring business /money to any hiring organization.
He is part of the business operation and is generally found relatively high in the hierarchy of the organizations which are into IT Services and Software Solutions. He would be part of the core team that would also include the Project Manager as well as the Finance Manager. Hence, he acts as a liaison between the two, and the client.
Roles of a Business Analyst
As mentioned above, a Business Analyst plays a liaising role between the core team and the clients. But the primary job of BA is to communicate with all the stakeholders and extract the possibility of bringing business to the hiring organization. He is also involved in knowing and validating the changes to business processes, information systems, and policies.
Business Analysts are also assigned to analyze the organizations' business operations by interpreting the processes, analyzing the data i.e. output rate, gains/losses, and customer feedback.
This would help them to compile and generate reports on issues and drawbacks within the different departments of the hiring organization. The reports help the project/product managers to initiate any corrective/preventive actions.
Some of the other roles that BA would manage are:
Understanding the potential business opportunities
Analyzing the type of business and its market prospects
Designing new features to the business/product and its impact
Support the implementation to add new features
Who is a Project Manager?
In general, a project manager is assigned the task of managing and delivering any project which has a defined scope, and start and end date, with responsibilities like planning, execution, and control of the project activities.
According to PMI, Project Managers are the change agents. They make project goals their own and use their skills and expertise to inspire a sense of shared purpose within the project team.
Roles of Project Manager
As we know, the project manager is the main driver of the project of a hiring organization, he has multiple roles to play in achieving the project assigned. Some of the key roles of a project manager are listed below:
Manage and deliver the assigned project successfully, meeting the project objectives
Plan project activity and resources
To be the leader in organizing and motivating the project team
Estimate project duration and Control schedule
Estimate activity cost, determine project cost, and control budget
Engage and manage project stakeholders to make the project a success
Determine, analyze, and manage project risks
Manage project communications and documentation
A professional project manager's role is to manage the assigned project smoothly and control the progress by keeping the project on track, avoiding non-conformances to achieve the quality standards set at the beginning of the project.
Why do people often get confused? What makes them appear so related to each other?
By looking at the above information about the roles and responsibilities of a Business Analyst and a Project Manager, one may notice the similarities between the two positions.
But still, both positions exist in many organizations based on their business module.
Both BA and PM play their roles in contributing to the organizations' business growth. Project managers play leadership roles within the context of the assigned project while Business analysts are individual contributors. Project managers many times play a higher role as whatever he/she created with the team goes to the market and starts giving back to the organization.
Looking at the BA's role, many times he/she would be the key participants in initiating many projects thus making their role similar to project managers. The dividing line is project managers manage a team while business analysts would be part of the business/marketing team as an individual.
Some of the other roles that overlap are, collecting requirements, planning business analysis/market potential, request for proposals (RFP), defining the scope, gathering customer requirements, and defining business needs.
Few of the other factors which favor combining the roles of Business Analyst and Project Manager are:
Project is very small, and the Resource budget is limited
Risks associated with the project are low
The business module of the organization does not support the separation of the role
If there is an impact on functional business areas
Project and the team is small but experienced, wherein individuals capable to perform different roles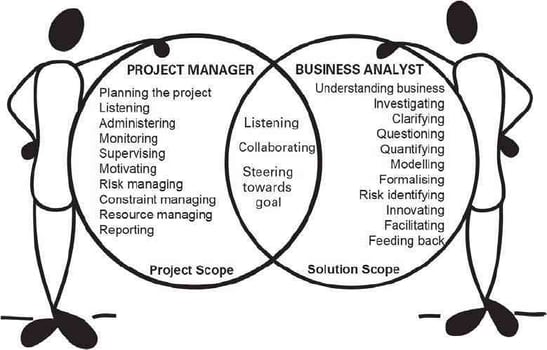 Career changes and suitability for both business analyst and project manager:
There are many professionals in various organizations where they play dual or multiple roles. These may happen many times with BA and PM too. Both are leaders, decision-makers. Hence, can mold themselves to compete with either role. In case any organization does feel the necessity of keeping both roles or may opt to cut the cost on resources or in case the project appears to be small to assign both resources, both BA and PM roles would be combined and assigned as one resource.
If a Business Analyst and the Project Manager keep changing their roles based on the organization's needs, changing the career for both the professional may prove to be inevitable. This may prove to be advantageous for them keeping in view the market demand as organizations most of the time look for the professional who is capable to manage multiple responsibilities.
When it comes to changing career, project managers get more advantage over the business analyst since project manager many time carry technical competencies as well managerial skills, which may not be so in other as business analyst generally possess business skills and typically focussed on the product despite he/she may contribute to project-related works. Though the competencies overlap the mindset is different.
Considering today's business situation, business analysts do not have their career path as many organizations do not maintain that vertical, meaning business analysts may not have a senior business analyst position. So it would be more reasonable for the BA to get involved with project management procedures if they ever think to change their career. In many cases, it is seen that project managers attempt to change their career to business analysts, based on the hierarchy within the organization.
Business analyst vs Project Manager :
Role Comparison in terms of Competencies
Competency
Business Analyst
Project Manager
Leadership

Shall work constructively with team
Provide coaching & guidance

Motivate the team
Coordinate team activities
Resolve Conflicts
Take responsibility for success & failure

Problem Solving

Gather process options
Extract business requirements
Establish facts
Perform root cause analysis

Remove performance bottlenecks
Confront issues
Create plans for problem-solving

Decision Making

Explore the impact of decisions
Recommend improvements

Manage approval and sign-off
Allocate project resources
Manage priorities and schedule

Critical Thinking

Convert analytic data into decisions

Control Change
Manage Scope
Develop schedules

Perspectives

View Strategy at the process level
Provide detailed knowledge

View strategy at the organization level
Provide wide knowledge
See and solve issues in the integration plan

Influencing

Meet business user's expectations
Build rapport with team & customer

Manage stakeholder's expectations
Manage project variances
Buy stakeholder's consensus

Communication

Process key report-writing skills
Communicate with team & customer

Manage stakeholder communication
Make high-level status reports

Time Management

Facilitate business output
Ensure on-time solution

Manage project schedules
Prioritize solutions
Apart from the above key difference between the two roles would be:
Business Analyst conducts business analysis and recommends solutions that enable the organization to meet its goals. Whereas,
The Project Manager manages the assigned project through the application of approved/planned management processes using his/her skills to meet the project objectives.
Other general differences are tabulated as below:
| | |
| --- | --- |
| Project Manager | Business Analyst |
| Defines project scope | Defines business scope |
| Estimate resources required | Models business (As-Is)& Requirements (To-Be) |
| Develops Project Plan | Develops Requirements Work Plan |
| Manages the Project Risks | Manages Requirements |
| Performs project closeout | Supports Testing |
PMBOK Task vs BABOK:
PMBOK Task vs BABOK

CL

PMBOK® Process

CL

BABOK Process

4.2

Develop Project Management Plan

2.3

Plan Business Analysis Activities

2.5

Plan Requirements Management Process

2.6

Manage Business Analysis Performance

4.4

Monitor and Control Project Work

2.6

Manage Business Analysis Performance

5.1

Plan Scope Management

2.5

Plan Requirements Management Process

5.2

Collect Requirements

3.1-4

Elicitation: Prepare, Conduct, Document, Confirm

4.2

Manage Requirements Traceability

4.4.5.1

Requirements Documentation

5.3

Define Scope

5.4

Define Solution Scope

5.4

Control Scope

5.1

Manage Solution Scope

5.6

Validate Scope

7.5

Validate Solution

8.3

Quality Control (Testing-monitoring and recording results)

7.6

Evaluate Solution Performance(Results analysis and recommendation)

10.1

Plan Communications Management

2.4

Plan Business Analysis Communication

10.2

Manage Communications

4.5

Communicate Requirements

10.3

Control Communications

2.6

Manage Business Analysis Performance

13.1

Identify Stakeholders

2.2

Conduct Stakeholder Analysis
Conclusion:
Project Manager is an important person as project delivery is concerned so as a Business Analyst for the organization's business growth. Depending upon the organization's hierarchy/resource structure, both the roles are managed independently else clubbed together as a single position to manage both business and the projects.
Due to the changing trends in the marketplace, many professionals opt for a Business Analyst role especially the IT/Software sector, as this position plays vital businesses to the organization and for the attractive salary package. But this role has limitations in the organization's hierarchy.
Project Manager role fits into any type of organizations, for any type of projects they do. This position is widely accepted by most of the professionals because of its growth prospects. Since business and project go hand in hand, project managers would get better opportunities to shift their career to business analysis since most of the project manager skills match with the business analyst position.