From Answering Calls at a BPO to a Data Analyst at TekFriday!
From Answering Calls at a BPO to a Data Analyst at TekFriday!
"You never change your life until you step out of your comfort zone; change begins at the end of your comfort zone."
Akshata is a successful Data Analyst at TekFriday Processing Solutions Pvt Ltd ( dynamic and young company, on an aggressive growth path with a goal to put a mark on the Alternative Financial Services domain).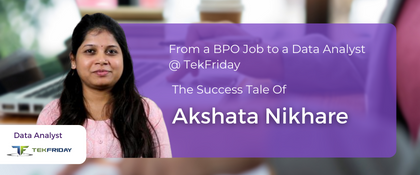 Akshata Nikhare is a Maharashtrian, who graduated in electrical engineering in 2016. As an electrical engineer, she wanted to work for the government. Hence after graduation, Akshita started preparing for govt. jobs, but, she wanted to earn as well stay financially independent. So, she joined a BPO company and continued to prepare for a govt. job.
And, Covid Happened...
Akshata had to relocate and could not continue her job. She always wanted to join the IT industry but had this strong notion that only those who have studied computers or information technology are eligible to join the industry. However, her doubts were soon put to rest by her better half, who explained how anyone can join the Data Science Industry, irrespective of the graduation stream. Thus, she discovered OdinSchool.
Akshata's OdinSchool Journey
Akshata felt very apprehensive about the job switch initially, but as the course progressed and got mentored by top industry professionals, she got confident. Akshita's exact words:
There are so many mock interviews for the technical round/HR round which is followed by weekly technical assessments. All this preparation makes one feel very confident. OdinSchool also helps you with every online profile preparation, be it on LinkedIn/GitHub/Kaggle. They provide such comprehensive preparation and help you design your CV in such a way that you get shortlisted.
Akshata's Advice for Non-IT Data Science Aspirants
One of my strongest pieces of advice would be to leave your comfort zone. I entered my comfort zone in those 4 years working at a BPO. I was heading a team and knew all the processes by then. I understood that if I had to fulfill my wish of joining the IT industry, I had to step out of my comfort zone. I did exactly that and here I'm (From Answering Calls and writing emails @ a BPO to a Data Analyst @ TekFriday)
Another sincere suggestion would be to practice your subject as much as possible. Relying only on the course preparation is not enough. Solve different types of coding problems from different online platforms.
On similar lines, my next advice would be to have at least one personal project other than the course project to gain more hands-on experience. It not only shows your knowledge but your hunger to learn more.
And you don't have to be a pro in English language communication. There is no reason to get scared in the interviews as the interviewer only assesses your ability to communicate your thoughts to the team and not your proficiency over the language.
Found this story inspiring? Want to build your own version of this career success story? Join OdinSchool's Data Science Bootcamp today!