Blog
The Story Of Bill Peace: How A Former Security Professional Uses AI To Combat Human Trafficking
The Story Of Bill Peace: How A Former Security Professional Uses AI To Combat Human Trafficking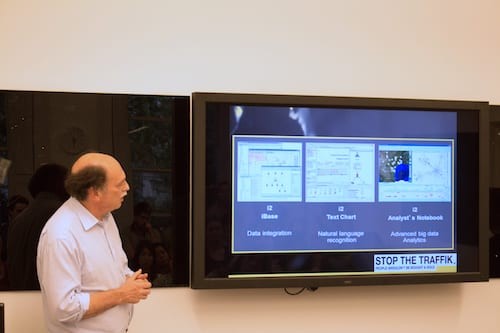 Bill Peace was on the verge of his retirement when he realized that his commitment to humanity was not a contract that had to be revoked. A veteran with 30 years of experience in the field of security and intelligence, he decided to dedicate his retired life to combating human trafficking. Today, he is a crusader at the frontline of the global movement against trafficking.
It is despairing that humans have to save themselves from their own kind. But thanks to technologies such as Artificial Intelligence; the way we empathize with and protect our fellow human beings has been transformed monumentally.
Labeled as one of the most dangerous crimes in the world, human trafficking is a ghastly monster that hides in plain sight. With an annual turnover of billions of dollars, this industry has its tenacious arms wrapped around women, children, and other vulnerable communities. The victims of the crime are pulled into a vicious cycle of forced labor, prostitution, and other appalling forms of exploitation.
As the former Deputy Director of Intelligence at the UK's Serious Organized Crime Agency, Bill was already involved with the country's fight against human trafficking, among other social cancers. He now serves as an advisor to the NGO 'Stop the Traffik', and oversees the cross-sector information sharing hub that facilitates the functions of the organization. The NGO uses the principles of Data Science to analyze information across different organizations that fight human trafficking and make intelligent predictions.
Despite their efforts to function off the grid, human traffickers leave behind faint data trails that Stop the Traffik picks up. Its intelligence-led approach voraciously hunts and tracks trafficking hotspots, trends, and practices using this information.
Stop the Traffik also focuses on building communities that can detect suspicious activities. The information these communities submit is then processed to identify traffickers' profiles, networks, and modes of operation. 'Stop APP' is an application that the NGO developed to raise awareness and to help people across the world join their battle. It has partnered with tech giants like IBM, Facebook, and Twitter to maximize its influence.
The world would have been a blissful place to live in if everyone 'loved their neighbor'. Though humans are capable of unfathomable greatness, some are sadly inclined to commit heinous crimes. This is why Bill's story is important and inspiring to tech lovers all over the globe. With the optimal use of cutting-edge technologies such as AI and Data Science, his team has proved that it is possible to beat the evil if we stick together and work smart.
You can join the data revolution and change the world too by breaking into the Data Science domain. Join OdinSchool's Data Science Bootcamp to kickstart your career.