Blog
Why You Should Prioritize Skills Over Conventional Degrees In Data Science
Why You Should Prioritize Skills Over Conventional Degrees In Data Science
Elon Musk is often under the spotlight for his radical tweets. But, let's face it; his companies are successful and continue to inspire tech lovers all over the globe. Tesla, one of the most disruptive companies in the world, has revolutionized the automotive industry with its self-driving cars.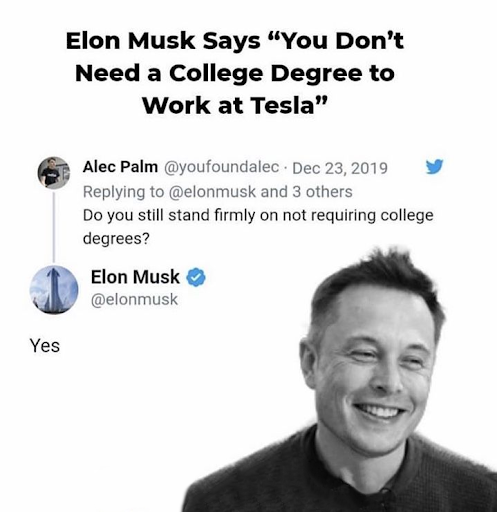 Musk, in one of his tweets, said that he does not look for college degrees when it comes to job applications at Tesla. What does this statement from a tech mogul mean for fast-growing industries such as Data Science?
Data Science is seen as a highly sought-after career path because it's quite empowering to find, transform, and transmit useful information to drive innovative algorithms and models. It presently powers the most glamorous of all cutting-edge technologies, including self-driving cars.
This article discusses why you need to prioritize skills over degrees if you are planning to launch and grow your career in Data Science.
Data Science is a fairly new industry where there is an abundance of opportunities for skilled professionals. There are hundreds of candidates vying for Data Science positions every year in India. In fact, India is one of the largest hubs of Data Science in the world.
Now, here is a critical question - can your degree solely determine the success of your career in Data Science?
Here are some crucial points:
The Data Science Industry Now Values Skills More Than Degrees

The Data Science industry has begun to accept the fact that degrees do not always guarantee someone's expertise in a domain. While it might get you an interview, your degree is certainly not going to determine whether or not you get hired as much as what skills you can demonstrate.


A Conventional Degree/A Certificate Might Not Necessarily Be the Measure of One's Actual Talent

The education system still needs a huge overhaul before it's able to properly train these students. The curriculum could use an update to accommodate changes in the industry and allow students to learn more relevant skills that can turn them into industry assets.


A Degree Might Help You Land A Job, But Not Advance Your Career

Yes, the right degree can help you land an entry-level job in Data Science. But, the field of Data Science is ever-evolving. The skill genome in Data Science, just like in any other industry, is bound to change based on the business models and technologies adopted by various business organizations. If you are serious about advancing your career, skills are a can't-do-without.


Degrees Might Become Obsolete

Yes, degrees are necessary. Unfortunately, they are highly likely to become obsolete depending on the changing needs of the Data Science industry. On the other hand, with proper upskilling, one can stay relevant and employable in the industry.


Degrees Do Not Prioritize Practical Learning

Degrees tend to be more focused on theoretical learning than practical application. But, in a fast-paced data-driven working environment, wrangling data to extract critical business insights demands extensive hands-on experience. Data Science education has to be uncompromisingly hands-on.
Building your career in just about any industry is never about degrees but about how well you can wield your skills. In Data Science, until you gather adequate experience with the right tools and real-world data sets, you will not be able to develop a sound data intuition.
The biggest challenge in the early stages of your career is finding the means to acquire adequate hands-on experience. This is why Data Science Bootcamps make one of the best ways to gain hands-on experience and diversify your skillset.
OdinSchool's Data Science Bootcamp is short, hands-on, project-based, and rigorous, making it one of the best alternatives for conventional degrees.