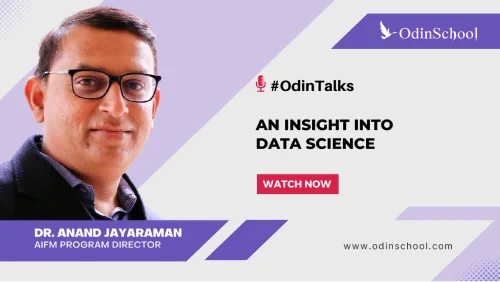 An Insight into Data Science
Dr. Anand Jayaraman
,
AIFM Program Director
|
16 Jul 2021
OdinTalks
>Data Science Bootcamp >An Insight into Data Science
About the speaker
Dr. Anand Jayaraman holds a Ph.D. from the University of Pittsburgh, U.S., and a Bachelor's from IIT Bombay, India. He is an experienced Quant Trader and Portfolio Manager who has 12 years of experience in BFSI and 6 years of teaching experience in prominent US universities like Pennsylvania State University and Duke University. He mentors students at INSOFE on Statistics, Linear Regression, Logistic Regression, and Time Series. He has 12 years of experience in Quantitative finance, building strategies, and managing money.
His extensive experience in Non-linear dynamics, computational physics, and fluid dynamics led to the publication of several peer-reviewed research papers and 6 years of experience in teaching Physics and Mathematics in prominent US universities.
Synopsis
Dr. Anand starts the session by discussing the potential of Data Science as a discipline and a career path. He also sheds light on various use cases of Data Science along with examples.
He also walks the participants through his previous experiences and shares an interesting story on Mutual funds during his stint as a Portfolio manager at Hedge Fund.
Watch the full video to know more.