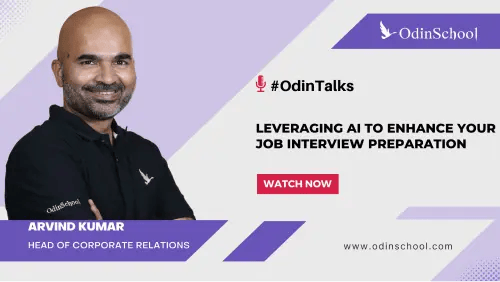 Leveraging AI to enhance your job interview preparation
Arvind Kumar,
Head of Corporate Relations, OdinSchool | September 01, 2023
Arvind Thoopurani started his career with the Indian Air Force. After serving for ten years, he took an early retirement and joined Meritrac Services as a Manager. Later, he joined as a Director at Talentio Academy, where he trained and coached professionals for better careers. He continues to follow this passion of his as the Head of Corporate Relations at OdinSchool where he helps trained talent find the best career opportunities. He is an Author, Coach, Mentor, Design Thinker and Problem Solver
In this interactive session, Arvind guides through the intricate process of transforming a job interview into a coveted job offer. Arvind underscores the paramount significance of interviews, substantiating his insights with compelling statistics that shed light on their pivotal role in career advancement. Throughout the session, Arvind uncovers the most formidable challenges individuals encounter during interview preparation, drawing from his extensive experience. He emphasizes the invaluable role of a mentor in overcoming these hurdles and achieving success in the interview process.
Furthermore, Arvind introduces the innovative incorporation of Artificial Intelligence (AI) in interview preparation, offering a glimpse into how this technology can elevate your readiness for interviews to new heights.
Arvind also reveals three exclusive bonus tips that can significantly increase your chances of acing that all-important interview. Watch the full video to learn three bonus tips to crack the interview and secure the job offer you desire.