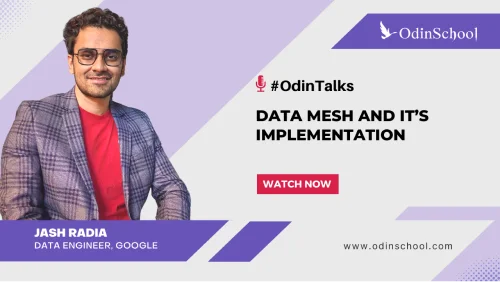 Data Mesh and it's Implementation
Jash Radia
,
Data Engineer
|
04 Nov 2022
OdinTalks
>Data Science Bootcamp >Data Mesh and it's Implementation
About the speaker
Jash Radia works for Google Cloud's Data and Analytics team and is passionate about applying technology to solve real-world issues. He has worked on some of the latest big data technologies such as AWS, Azure, GCP, and prospect technologies like Kubernetes, Snowflake, Spark, and more with multiple clients in his experience as a Data Engineer
Synopsis
In this session, Jash Radia discusses Data Mesh and how to implement it.
He defines Data Mesh as a concept that tells you how to handle the data when you have multiple teams in an organization.
Initially, when these buzzwords, namely, Machine learning and Big data, were picking up, people started to realize that there was a need to organize the data. That's when Data engineers came into the picture; they use Data Engineers to set up different pipelines once the data is streamed and transformed into a usable state; the role of data scientists would be played thereafter.
Watch the full video to know more.