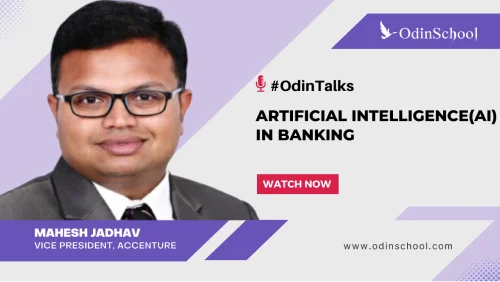 Artificial Intelligence(AI) in Banking
Mahesh Jadhav
,
Vice President
|
06 Jan 2023
OdinTalks
>Data Science Bootcamp >Artificial Intelligence(AI) in Banking
About the speaker
Mahesh is a Data Science Leader with rich experience of around 14+ years. Throughout his career, he has provided high-impact, data-based solutions, strategic advantage, reduced operational costs, and increased revenue for various clients across different industries. He specializes in Fraud Analytics, Campaign Analytics, Marketing Analytics, and Customer Analytics (Customer Segmentation, Customer Experience, Customer Acquisition, Customer Engagement, Customer Retention, and Customer 360 degree), Intelligent Automation, Anomaly detection using Statistical Modelling/ML/DL/NLP/Cloud technologies. He graduated from IIT-ISB.
Synopsis
Mahesh shares some insights into his experiences in the banking sector.
Points covered:
A brief introduction to Artificial Intelligence(AI) and Machine Learning(ML)

Artificial Intelligence(AI) and its impact on daily lives

Artificial Intelligence in Banking

The future of AI in Banking
Machine Learning: Machine learning is defined as a machine's ability to mimic intelligent human behavior. AI systems are used to accomplish complex tasks in a manner similar to how humans solve problems.
Artificial Intelligence: Artificial intelligence makes use of computers and machines to simulate the human mind's problem-solving and decision-making abilities.
Mahesh explains the basics of Artificial Intelligence, Machine Learning and elaborates on their applications. Is Artificial Intelligence the same as Machine Learning? If yes, then why do we have different concepts?
Watch the full video to learn more.