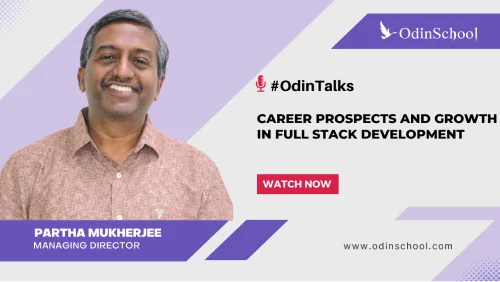 Career prospects and Growth in Full Stack Development
Partha Mukherjee
,
Managing Director
|
15 Apr 2021
OdinTalks
>Data Science Bootcamp >Career prospects and Growth in Full Stack Development
About the speaker
Mr. Partha Mukherjee is the Managing director at ZeroCodeHR. He has more than 25 years of experience in the field of web development. He has held leadership roles at different companies including JP Morgan, Morgan Stanley, TCS, American Express, and a few more. He earned his Masters from Pace University, New York. He has a lot of expertise in the field of Java and Full Stack.
Synopsis
Partha Mukherjee's career journey.

What do you mean by Full Stack?

Why do we need to study it?

What are the career opportunities?

What are the Skills/Qualities required for a Full Stack Developer?

Advanced Skills to grow the career.
Mr. Partha shares the different roles he played during his corporate journey and also gives insights into some interesting stories that made him a coder. He elaborates on each technology he has learned and how they had helped him in his journey.
Watch the full video to know the roles and responsibilities of a software developer and the career potential in Full Stack.