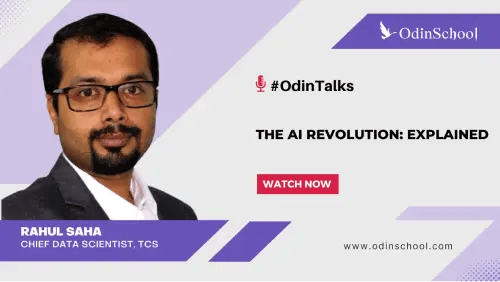 The AI Revolution: Explained
Rahul Saha,
Chief Data Scientist, TCS | July 21, 2023
Mr. Rahul Saha is a skilled Chief Data Scientist at TCS IP2, specialized in Data Science, Machine Learning, and AI. With expertise in Python, Azure ML, AWS Sagemaker, and IOT sensor data, he leads R&D for an Advanced Digital Twin in power plants. Rahul's diverse experience includes Cloud-based Products, Content-based Filtering, Collaborative Filtering, and Analytics Dashboards. He is a respected Guest Speaker with global exposure to clients from various industries, including Education, Sport & Entertainment, Retail, Insurance, and Telecom.
In this session, Rahul Saha, a Chief Data Scientist at TCS, shares his incredible journey. The discussion encompassed various facets of AI, exploring different types and their real-world applications. Rahul delved into the learning path towards mastering AI technologies, providing valuable insights on how individuals can effectively train and upskill themselves to pave a successful career in this dynamic domain.

Aspiring professionals seeking a thriving career in Data Sciences gained invaluable advice from Rahul as he highlighted the top 3 skills to help them sustain and flourish in the industry.
The session concluded with an engaging Q&A session, where Rahul answered thought-provoking questions from the audience. The Q&A segment offered valuable insights and expert advice on AI trends and practical implementation challenges.

Watch the full video to know more.