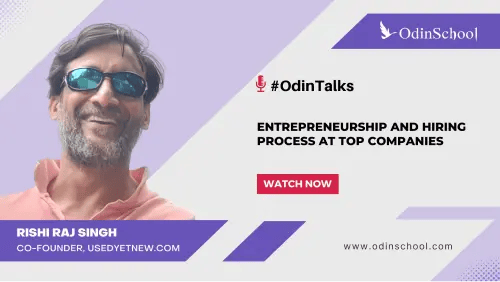 Entrepreneurship and Hiring Process at Top Companies
Rishi Raj Singh,
Co-founder, UsedYetNew.com | September 29, 2023
Mr. Rishi Raj Singh was a Commander in the Indian Navy for 15 years before joining ISB. Post ISB, he worked at Google for 4 years before starting UsedYetNew.com. Used Yet New is a re-commerce portal founded by Cdr Rishi Raj Singh. Rishi Singh has experience working as a co-founder and CEO at Kitchensfood.com, where he was responsible for online sales and operations. Additionally, he was also responsible for Head of Training at the Indian Naval Academy. Rishi Singh has a degree in Financial Management from the Indian School of Business and a Bachelor of Science in Business Administration from Jawaharlal Nehru University.
In this interactive session, Rishi Raj Singh imparts insightful perspectives on his multifaceted career journey and insights on getting hired at coveted companies. He shares his diverse experiences - from being a naval officer and board member at ISB to hiring manager at Google and eventually co-founding his startup UsedYetNew.com. He explains his motivation to make second-hand goods easily accessible, which led him to entrepreneurship.

Offering a peek into Google's hiring process, Rishi outlines his own interview experience and working at the tech giant. As an ex-board member responsible for ISB's admissions, he also shares valuable insights on what candidate profiles and qualities grab the attention of evaluators and hiring managers at top firms. Watch the full video to learn the interesting questions by the learners of Data Science and gain tips on acing interviews, developing the right skills, and crafting your professional narrative. He advises being authentic and well-prepared as key strengths that hiring managers look for in aspirants.