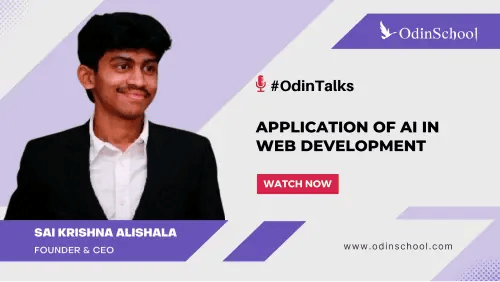 Application of AI in Web Development
Sai Krishna Alishala,
Founder & CEO, ElitCeler Technologies | August 25, 2023
Sai Krishna Alishala, an accomplished tech mentor and dynamic entrepreneur, has established himself as a prominent figure in the world of technology and startups. Having worked with over 10 startups, Sai Krishna has gained a wealth of experience that spans various domains and industries. As the Founder and CEO of ElitCeler Technologies, Sai Krishna has demonstrated his visionary leadership.
In this session, Sai Krishna, speaks on his journey in the space of web development. He provides valuable insights into the ever-evolving landscape of data science and AI, shedding light on their applications in the fascinating world of web development. Sai Krishna also addresses a critical question: How to choose the right project topics in this field? Drawing from his own experiences, he offers guidance on selecting projects that are not only engaging but also aligned with your goals and interests.
In an interactive Q&A session, Sai Krishna addresses questions from the audience, providing clarity on various aspects of data science, AI, and web development. As the session wraps up, Sai Krishna explores the enticing possibilities of entrepreneurship and freelancing as career options in this domain. He shares valuable insights into what it takes to thrive in these areas.
Watch the full video to know more.