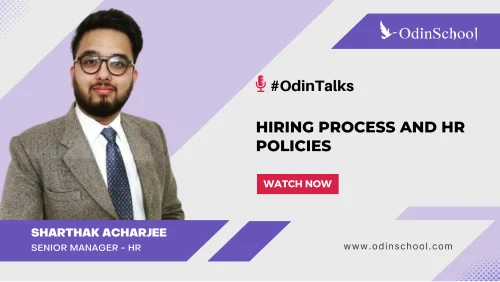 Hiring Process and HR Policies at Celebal Technologies
Sharthak Acharjee
,
Consultant HR
|
07 Jul 2022
OdinTalks
>Data Science Bootcamp >Hiring Process and HR Policies at Celebal Technologies
About the speaker
Sharthak Acharjee is an engineer and a corporate leader at Celebal Technologies. He started his career at IBM as a Big Data Developer. Acharjee also has extensive experience in training students in PySpark, PowerBI, and several other technologies.
Synopsis
Sharthak Acharjee, in this session, describes why Celebal Technologies is one of the best places to work for Data Science aspirants and how you can make your way into this organization. He also goes on to discuss the potential of Data Science as a career choice and various career paths in his organization.
Celebal Technologies was established in 2016, with its headquarters in Jaipur, Rajasthan. The organization transforms traditional enterprise solutions into modern practices. It has majorly collaborated with Azure.
Celebal Technologies operates in the following domains:
App Modernization
Serverless Computing
Cloud Infra and Automation
Cloud Security and Identity
Business Intelligence
Acharjee also elaborates on the mission and vision of Celebal Technologies - the ultimate goal is to make the world a better place by making data simple and easy to use. They are also committed to providing solutions that are powered by Artificial Intelligence and Machine Learning algorithms. Acharjee also discusses how they help their clients increase their productivity using the latest reliable technology with a sense of security and authenticity.
Watch the video to learn all about the hiring process at Celebal Technologies, promotion and appraisal timelines, internship opportunities, and more.