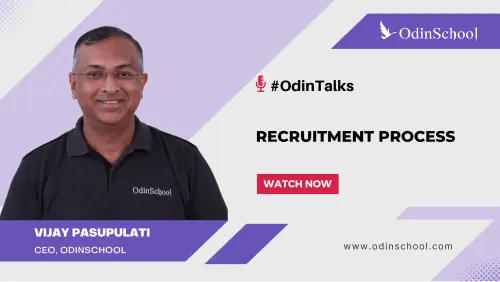 Recruitment Process
Vijay Pasupulati,
CEO, OdinSchool | August 11, 2023
Vijay Pasupulati is a successful edupreneur who currently serves as the CEO of OdinSchool. He is passionate about leveraging technology to build scalable skilling platforms. Former Vice President at Goldman Sachs and Credit Suisse, Pasupulati discovered his love for edupreneurship during the 2008 global economic crisis. An alumnus of the New York University Stern School of Business, Vijay Pasupulati holds an MBA in Finance and Information Systems, and B.Tech from NIT, Warangal.
In this session, Vijay Pasupulati shares insights on how companies hire. The process includes Profile Shortlisting, Assessment, Subject Interview, and General Interview.
In Profile shortlisting, companies look for relevant backgrounds and skills, so we have to ensure that we match the job description (JD) and prepare resumes accordingly. Vijay also mentions we can use different AI tools to help make the best resume based on our skills and experience. In Assessment, companies look for threshold scores; to maintain the score, we must keep practising more.

Watch the full video to learn more about how the recruitment process works.