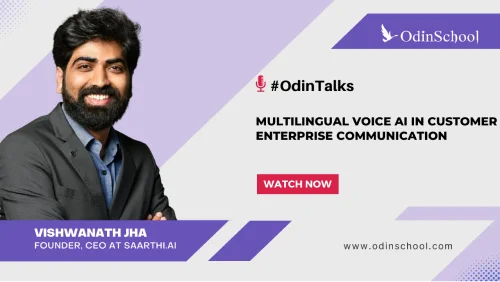 Multilingual Voice AI in Customer Enterprise Communication
VishwaNath Jha
,
Founder & CEO
|
13 Sep 2021
OdinTalks
>Data Science Bootcamp >Multilingual Voice AI in Customer Enterprise Communication
About the speaker
Vishwanath Jha is the founder and CEO of Saarthi.ai, a multilingual conversational AI company focused on enhancing large contact centers of the telecom, e-commerce, healthcare, and financial services industries with its domain-specific pre-trained voice bots and chatbots. He is a serial entrepreneur, AI thought leader and researcher. His primary research areas revolve around goal-oriented dialogue systems & speech technologies in low-resource languages. He is a part of various interdisciplinary groups of the central government, academia, and business that are in charge of creating the policies and frameworks that would encourage the ecology of research in Indian languages.
Synopsis
Vishwanath Jha elaborates on how to look at Data Science as a potential career path, which roadmaps you can pursue in this field, etc.
One such area of Data Science application where he spent almost a decade of his career is Voice Artificial Intelligence.
In this session, he highlights the following:
What does it take for a person to be a Data Scientist?

What kind of career paths are available for them?
Watch the full video to know more.