Hire the right talent
at zero cost!
Break away from the tradition of hunting for degrees. Onboard talents who have the right skill sets!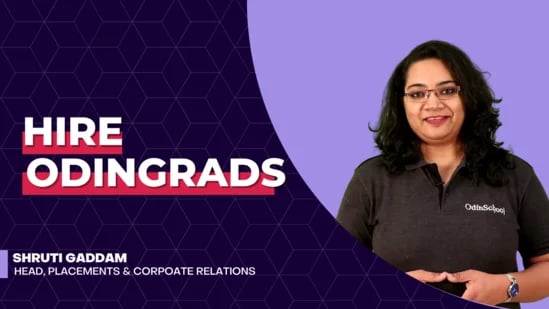 Why should you
hire from OdinSchool?
Quick Turn-Around Time Receive shortlisted profiles within 24 hours

Zero Cost Hiring
Hire the right talents at zero cost!

Year-Round Availability Hire job-ready candidates throughout the year

High Acceptance Rate
Above 98% of OdinGrads accept job offers
Find talents that meet industry standards. Get in touch with us today!
Top Hiring Partners





















































Hear from happy hiring managers
who've hired OdinGrads!
OdinSchool currently partners with 500+ progressive companies that hire from us.

Saritha Raghavan
Manager, Talent Acquisition, Symphony Retail AI
"As a pioneer in AI-powered marketing, merchandising, and supply chain solutions, we are very particular about the kind of data science professionals we bring on board. Working with OdinSchool and hiring their graduates has been a very smooth experience so far. We are happy with the performance of OdinSchool students and value their workplace behavior."
Niraj Gupta
Technical Recruiter, Human Resource, Cotiviti
"My appreciation to team OdinSchool for the effort put into providing the right candidates for roles in our company, hence assuring quick TAT. The team was prompt in responding with the course curriculum and other details requested. I thank the team for continuous assistance and follow-up throughout the process. I wish to have a fruitful association going forward as well!"

Rajeev Jha
Vice President - Human Resources, FIA Global
"Sourcing skilled and relevant talent for our data analytics team has become very easy with our association with OdinSchool. What works for us is the diversity that exists in the learner base of OdinSchool. We get access to both fresher and experienced profiles here. This has highly reduced our effort in hiring the right candidates. We are happy to work with them and are looking forward to hiring more candidates from them in the future."

Sharthak Acharjee
Senior Manager - HR, Celebal Technologies
"OdinSchool has done a great job preparing candidates with hands-on experience in the most up-to-date curriculum, and it has been a great experience working with them so far."

Abhishek Vardhana
Talent Acquisition Specialist, Qurinom Solutions
"We appreciate OdinSchool's excellent talent pool and their seamless support in our recent placement drive. The team's cooperation, and prompt profile shortlisting greatly facilitated our hiring process. We look forward to continued collaboration for future requirements."

Nisha Goyal
Associate - Human Resource, Vivify
"I commend OdinSchool for helping us hire top-quality candidates for Data Analyst roles. Your support ensured a smooth recruitment experience. We value our partnership and look forward to continuing to work together in the future."
Quick, free, easy

hiring process
01
Send us your specific hiring requirements
02
Receive shortlisted profiles within 24 hours
03
Interview our graduates and onboard them
Meet your diverse hiring needs

with OdinSchool.
From fresh graduates to experienced working professionals who come from diverse backgrounds, our talent pool will help you meet all your hiring needs. Get in touch with us today!