Join. Learn. Get Hired | Live Bootcamp With Placement Assistance

Live instructor-led bootcamp

Job readiness in 6 months

Project-based learning

Unlimited job opportunities
Avail Early Bird Offer Now!
Upcoming Cohort
30 Dec 2023
Bootcamp Fee
₹ 75,000 + GST

Scholarships Available

Early Bird Offer
Additional ₹10,000 off
Limited to the first 100 seats
500+ Hiring Partners
























































































Hear from
your peers

who've been successfully placed.
It's your turn to become a Data Science professional.
Secure your seat today!
New placement opportunities

every week!
Work with a dedicated placement team that connects you with the most relevant job opportunities.
Snapshots
530
Data Science job opportunities available to our learners this week
Highest Package
Median Package
Top Job Roles
Data Analyst
Data Engineer
Data Scientist
ML Engineer
Power BI Developer
A weekly round-up of job opportunities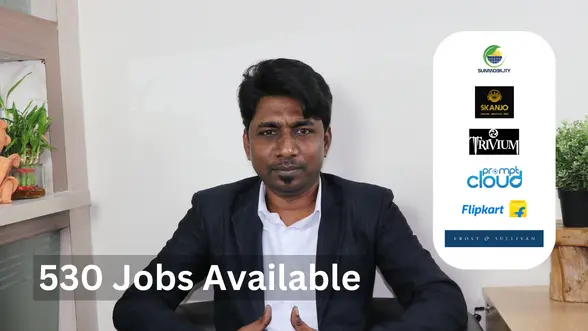 28 NOV 2023 | 530 Jobs Available
Top companies hiring our learners this week - Housing.com, Spoors, Skydo, Quadrant Technologies, Dot eVentures, and Your HR Power
Skills Required
Python
SQL
Power BI
ML Techniques
Excel
R
Tableau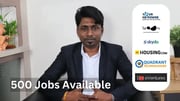 21 Nov 2023 | 500 Jobs Available
14 Nov 2023 | 500 Jobs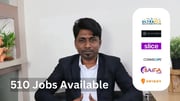 07 Nov 2023 | 510 Jobs
Want to grab these opportunities? Get in touch with us today!
Career Services

in a nutshell
Get ready for your dream job! Attend comprehensive job readiness training with Career Services.
Learn workplace skills to never feel out of place at work.
Your working style and behavior decide if you are a good cultural fit. Learn workplace skills so you never feel out of place at work.
Sell your skills, and sell them well.
You are halfway there if you have a great resume and an optimized online presence. Work with our experts to build your professional profiles.
No more pre-interview jitters. Attend mock interviews!
Get a grip on those pre-interview nerves. Test and practice your skills with mock interview sessions.
Power ahead in your career with Career Services
This is not a job guarantee program.
We offer top-notch live classes, mentorship, projects, and career services, including dedicated placement assistance with our 500+ hiring partners.

While we are committed to your success, please note that we do not offer a job guarantee. Your effort and dedication are essential to achieving success, and we encourage you to make the most of the opportunities we provide. We are here to support you every step of the way.
Resume Building
Mock interviews
Behavioral Skills Workshop
Online Profile Building
Industry Interaction
Unlimited Job Opportunities
Get
unlimited

interview opportunities for 2 years!

An ever-increasing pool of hiring companies, with no limit on the number of interviews you can attend!
The most in-demand skills in a single Data Science Bootcamp
curriculum!
Designed in consultation with the industry, the curriculum for our online Data Science Course is updated monthly so you can be productive from day 1!
Structured Query Language (SQL) is a powerful tool used in the management and manipulation of data within relational database systems. Databases are essential in modern computing, serving as repositories for structured information that can be easily accessed, queried, and manipulated. In this module, we will explore key SQL concepts, from creating databases and tables to advanced operations like subqueries and common table expressions (CTEs).
Advanced SQL skills are essential for those working with complex data and databases. In the realm of advanced SQL, data professionals and analysts delve deeper into the intricacies of data manipulation, utilizing a range of sophisticated techniques and functions to extract valuable information from complex datasets. Here, we explore the advanced SQL concepts and operations that empower data experts to unlock the full potential of their databases.
In today's digital landscape, Python has emerged as a powerhouse programming language, revolutionizing the way we develop software, conduct data analysis, and automate tasks. Its versatility, readability, and a vast ecosystem of libraries have made Python an indispensable tool for programmers, data scientists, and professionals across various domains. In this exploration, we will delve into Python's significance in the modern era, its integrated development environments (IDEs), and fundamental programming concepts.
Python, known for its versatility and simplicity, is not limited to basic programming tasks. It provides a robust platform for handling complex data manipulations, database management, and more. In this module we will delve into some advanced topics in Python that empower developers to tackle intricate challenges effectively.
Statistics is a cornerstone of data-driven decision-making across diverse domains. By mastering these fundamental statistical concepts and techniques, individuals and professionals gain the ability to extract meaningful insights, validate hypotheses, and make informed choices in an increasingly data-centric world. Whether analyzing survey results, conducting scientific research, or optimizing business processes, statistics offers a powerful set of tools to navigate the complexities of data and enhance our understanding of the world around us. In this module, we will explore key statistical concepts and techniques, paving the way for a deeper understanding of data science as a whole.
Exploratory Data Analysis (EDA) serves as the compass in a data scientist's journey, providing essential guidance through the intricacies of a dataset. By systematically examining data, we unveil patterns, understand data quality, and prepare it for more advanced analyses. Here, we explore the fundamental steps of EDA, illuminating the path to insightful data-driven decisions.
Machine learning is a dynamic field that empowers us to extract insights, make predictions, and automate decision-making processes using data. By understanding the core concepts and algorithms, data scientists and practitioners can harness the power of ML to solve a wide range of real-world problems, from predictive analytics to pattern recognition and beyond. In this module, we will embark on a journey through the exciting landscape of ML, touching upon key concepts and algorithms.
Business Intelligence (BI) is the practice of transforming raw data into meaningful insights that inform strategic decisions. It encompasses a comprehensive life cycle of data collection, analysis, visualization, and reporting. Power BI, a leading BI tool, equips organizations with a powerful platform to transform data into actionable information. Here, we delve into the key components, features, and skill sets required for successful Power BI utilization.
In the world of software development and collaboration, Git and GitHub play pivotal roles. Git is a distributed version control system that allows developers to track changes in their code, while GitHub provides a platform for hosting and sharing Git repositories. Here, we introduce the basics of Git and GitHub, from installation to key commands and workflows.
Get behind the prompts and unpack how a Generative AI model gets built. Understand concepts like Large Language Models, Transformers, Prompts and Training. Importantly, explore tools that let you build applications using State of The Art models without building from scratch.
Hugging Face is a machine learning (ML) and data science platform and community that helps users to build, deploy and train machine learning models. It provides the infrastructure to demo, run and deploy artificial intelligence (AI) in live applications. At the core of Hugging Face's offerings is the Transformers library, which has revolutionized the way we work with NLP models. We will explore what Hugging Face is, its key components, and how it has reshaped the NLP landscape.
Gradio is a Python library that revolutionizes the way we interact with machine learning models and AI applications. Designed to make AI accessible to a broader audience, Gradio simplifies the process of creating intuitive interfaces for machine learning models, allowing users to interact with AI systems effortlessly. We will dive into what Gradio is, how to install it, and how to create and customize simple Gradio interfaces.
Starting from Azure fundamentals, you would learn how to get Data from Azure storage, create live connections and use the 'What if'. Deepen your knowledge of Power Query with the advanced editor, Optimizing DAX and using paginated reports. Learn Advanced Power BI service with Apps and Deployment pipelines.
In the world of Data Analytics it's not enough to dig out insights from Data. It's important to drive action using these insights by offering a compelling narrative. This is where Storytelling comes in; how do you offer a context to the problems and opportunities that came up as a result of the Analysis done and showcase the impact.
Go beyond the classroom and pick up cookbook recipes for real world challenges in this extras series for SQL as you prepare for interviews and recruitment tests.
Go beyond the classroom and pick up cookbook recipes for real world challenges in this extras series for Python as you prepare for interviews and recruitment tests.
Understand the layers of Snowflake's architecture: storage, computing, and services. Learn how these layers work together to provide a scalable and flexible data warehousing solution.
Learn to use the Databricks community edition, pick up core Databricks concepts, using the notebook, creating and managing clusters, DBFS and utilities. Master Dataframe transformations, mounting Azure Datalake Storage, and Databricks SQL.
Go beyond ChatGPT and leverage the power of GPT4 to build applications that use OpenAI's APIs to build customer facing applications solving specific problems.
Learn from the basics of ADF, its interface, components, and resource creation. Explore Data movement, transformation, and pipelines. Master Scheduling and chaining pipelines and Azure SQL.
Learn Data Analysis using Excel - formulas, macros, pivots, power pivots, power query and building reports. Build and design interactive dashboards.
Understand Language constructs from a model training point of view. Explore tokenization, lemmatization, stemming, and tagging Parts of Speech. Learn Named Entity Recognition, TF/IDF, language model, word corpuses. Build models and train them to achieve summarization, completing, and translation tasks.
Learn Neural networks, training the model, back propagation and knowledge transfer. Explore applications of CNNs and RNNs, and understand Image recognition, natural language processing and speech recognition.
R is a powerful programming language and an open-source software widely used for statistical analysis and data visualization. Its significance extends across various fields, making it a valuable tool for researchers, data scientists, and analysts. Learn R from the basics.
Traditional Big Data tools have given way to PySpark for the Ease of Use and Data processing capabilities. Learn how to build ETL pipelines, building workflows, jobs, and optimization for real time streaming data.
Career Acceleration Skills
Effective communication is the bedrock of success in any profession. These sessions offer a comprehensive curriculum to sharpen your communication skills, ensuring you can convey your thoughts and ideas with confidence and clarity.
Under the much needed awareness of learning in today's world, we delve into the art of effective learning. Discover the science behind efficient study techniques, information retention, and continuous skill acquisition. Gain the edge in your career by mastering the skill of learning itself.
Confidence is the cornerstone of success. Our confidence-building session explores practical strategies to boost self-assurance, enhance your communication skills, and project a strong, professional image in any situation.
Emotional intelligence is a key driver of effective leadership and teamwork. Explore the depths of self-awareness, empathy, and interpersonal skills in this session, enabling you to navigate professional relationships with finesse.
Time is a precious resource, and mastering its management is vital. Our time management session equips you with strategies to prioritize tasks, set achievable goals, and maintain a healthy work-life balance.
Innovation is at the heart of success. Develop problem-solving prowess and foster creativity through design thinking methodologies. Learn how to tackle challenges with a systematic and innovative approach.





















Get placement opportunities up to 2 years!
Prep well for your dream job
Attend comprehensive job readiness training along with your technical training.
Learn Data Science while you:



receive project presentation guidance and evaluation

interact with industry veterans

attend communication and aptitude training


build and optimize your resume and other professional profiles

learn workplace behavioral skills
Get support every step of your way
Live interaction with instructors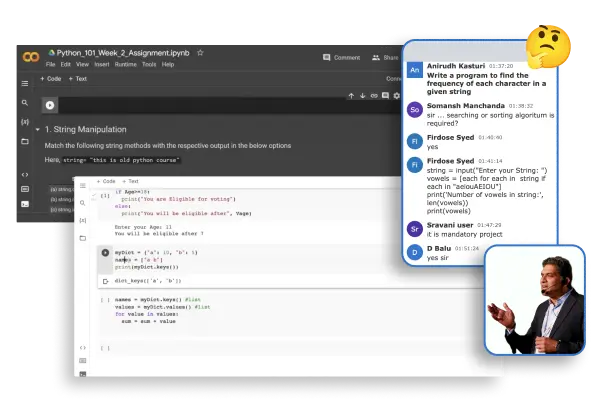 A dedicated Placement Team to go on job hunts for you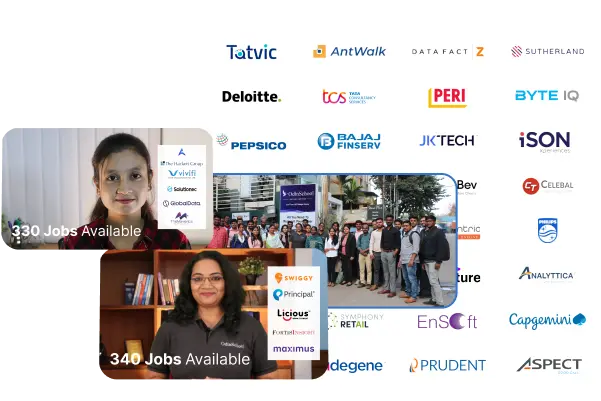 Mock interview sessions to boost your confidence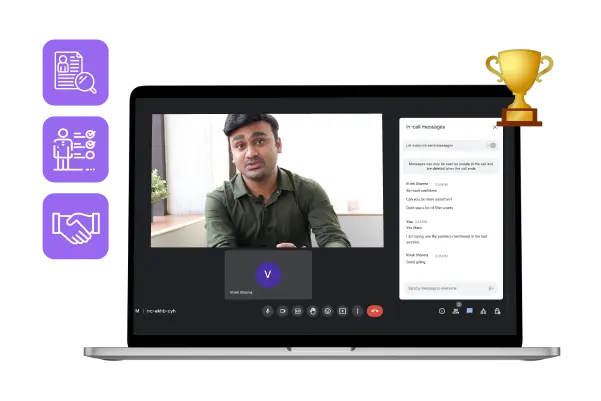 What's a great curriculum without

project-based learning?
Engage in 10+ Data Science Bootcamp projects and work with instructors to master the art of project presentation.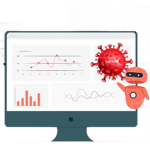 Develop a predictive model that can accurately identify the likelihood of COVID-19 infection
Use classification models like SVM, Gradient Boosting, and KNN.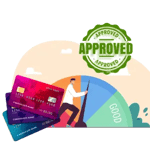 Help banks find potential customers to give out credit cards to by building an ML model
Use classification models like Logistic Regression, and XGBoost Classifier.
Health Insurance Prediction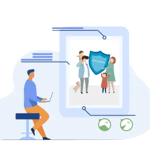 Build a predictive ML model to increase the accuracy of health insurance prediction
Use regression models like Linear Regression, Random Forest, XGboost.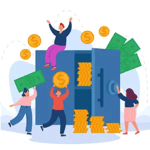 Build an ML model to to predict whether a customer would subscribe to bank term deposit
Use classification models like Logistic Regression and Naive Bayes Classifier.
Customer Churn Rate Prediction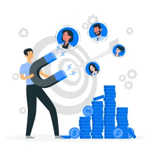 Predict churn rates using data collection, preparation, analysis, and visualization
Analyze data, take proactive measures to retain customers, and monitor results.
California Housing Price Prediction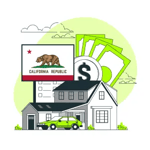 Uncover California's housing market trends effortlessly with powerful Python libraries
Explore location, size, income, amenities and more.
Join our Data Science Course to learn the most
in-demand skills and technologies!
Why OdinSchool is your
gateway to a Data Science job
Others
Live online classes led by instructors
Very high value for money
Updated every month as per industry requirements
Industry-aligned projects with project presentation guidance
Extensive services, including resume-building and behavioral skills workshops
Unlimited interview opportunities
Let us help you make an informed decision.
Student
reviews

and industry

recognitions
Don't just take our word for it. Check out our reviews and recognitions.
₹ 75,000 + GST

No cost EMIs start at ₹ 5,506 per month. 3, 6, 9, 12 months EMI option available.
Our Financing Partners:



*If you wish to withdraw from the Bootcamp within the first 10 days, your fee will be fully refunded.
Meet our
mentors and speakers!

Dr. Mohit Sewak
Principal Applied AI Researcher

---



Saurabh Ray
Data Scientist

---


Dr. Debojyoti Roy
Chief Data Scientist

---


Manish Kumar Singh
Data Scientist

---



Sarveshwaran Rajagopal
Sr. Data Scientist

---


Nagaraju Chikoti
Sr. Product Engineer

---



Krishna Kumar
Principal Data Scientist

---



Anand Narayanan
Founder

---



Murlidhar Bhekane
Staff Data Engineer

---



Avinash Mishra
Data Science Manager

---



Dr. Chiranjiv Roy
VP, Data Science
---



Abidunnisa Begum
Lead Instructor
---



Vishal Jain
PDM

---

Jyant Mahara
Data Science Lead

---



Rahul Saha
Chief Data Scientist

---



Chitranjan Upadhyay
Senior Instructor
---


Empower your career with OdinSchool's
Data Science Certificate
Showcase your certificate as a symbol of your Data Science expertise.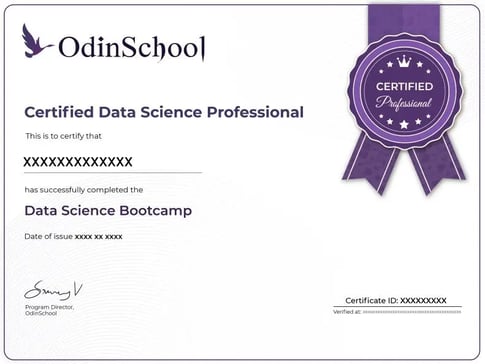 Frequently Asked Questions
The Bootcamp includes around 500 hours of learning spread across 6 months. We expect you to put in around 15 hours of work on the weekends throughout the duration of the Bootcamp. The time commitment will be toward live classes, team tasks, assignments, quizzes, and project work.
In this Data Science Bootcamp, you will work on around 10+ projects across the core domains of Data Science. Projects are kept updated in line with industry trends; so expect variety.
All of our instructors are industry veterans with extensive core experience in their respective fields. Our instructors also come with a passion to teach and enjoy interacting with students.
The outcome of this Data Science Bootcamp is a job in Data Science. Using multiple projects, we will train you in the essential tools and technologies needed to get a data science job.
All classes are conducted online over the internet using video conferencing solutions like Zoom or Webex. You will require access to the internet (2 Mbps+ recommended) on a computer (preferred) or on a mobile device to attend. Class size may vary depending on the specific cohort. However, we have teaching assistants available to interact in small groups and also conduct one-on-one sessions.
You can clarify doubts right within your lectures from the instructors. Or, you can reach out to us via our discussion forums anytime you get stuck. Your learning will be over our online learning management system available to you anytime, anywhere.
OdinSchool's Data Science Bootcamp comes with a mentorship program; practicing industry professionals are brought into the bootcamp to interact with students and provide industry insight. Mentors interact with students in groups and in one-to-one sessions providing guidance. Our mentors are very knowledgeable in their subjects and have a passion for helping students.
Placement assistance is provided to all the students who graduate the Bootcamp as per expected performance standards.
We start offering placement assistance from the seventh month and continue to offer this assistance up until two years following the bootcamp's start date.
Placement opportunities might be available in different cities across India and you are expected to be open to relocating in order to utilize the best placement opportunities.
You will be eligible for the placement assistance if you:
Successfully complete the Capstone project within the stipulated time period
Successfully clear all the Placement Readiness tests
Submit and get all the documents required for placements verified
Attend all the interview processes, including the test, technical interviews and other related processes
Not reject more than ONE formal company job offer letter
Disclose all important information required for standard background checks
OdinSchool is proud to offer top-notch live classes, mentorship, projects, and extensive career services. We also provide dedicated placement assistance through our network of 500+ hiring partners. We're fully committed to your success. However, it's important to understand that our Bootcamp does not offer a job guarantee and that your own effort and dedication are essential to achieving success. We encourage you to work hard and take full advantage of the opportunities we provide, knowing that we'll be there to support you every step of the way.
About Pune
Encompassed with slopes and lakes, the pleasant city of Pune is the pride of west India. It is the social capital of the condition of Maharashtra. The social and scholarly limit of Pune has earned it the title of being the 'Oxford of the East. Pune has a long-standing chronicled foundation. It is home to the incredible Raja Shivaji, furthermore of the Peshwas, who were a political impact amid the age of the East India Company. The brilliant ocean posts in Pune are a confirmation of the authentic past of this city. Today, Pune is growing with the formation of various corporate bodies. People staying here to make a bright career must get them to enroll in OdinSchool's Data Science Bootcamp.
Remember:
The average salary of a Data Science Professional is ₹ 9 LPA

Entry Level – < 1 year of Experience – ₹ 5 LPA
Early Career – 1 to 4 years of Experience – ₹ 5 LPA to ₹ 9 LPA
A Mid Career – 5 to 9 years of Experience – ₹ 9 LPA to ₹ 18 LPA
Experienced – More than 10 years of Experience – ₹ 18 LPA to ₹ 25 LPA Take a leap into your dream career with our
industry-aligned Bootcamps.
Start your journey towards a rewarding career today!