The Most Comprehensive Data Science Career Guide in 2021
The Most Comprehensive Data Science Career Guide in 2021
Summary
This blog discusses the process of pursuing a career in data science, highlighting the skills and industries that demand data scientists. It emphasizes that with the right courses and knowledge, almost anyone can enter the data science field. The blog covers the fundamental skills required, including mathematics, database knowledge, programming expertise (Python, R, SAS), data engineering, machine learning, deep learning, data visualization (Tableau, Qlikview), and big data analytics (Hadoop, Spark). It also explains that a degree is not always necessary to become a data scientist, and gaining relevant experience and skills through online courses and certifications can lead to success in the field.
Everyone wants to land their dream job without all the hustle that goes into it. However, that simply isn't possible. Sure, there may be some lucky individuals who got their desired jobs without much effort, but for most people, there is a process they need to go through, especially when it's a field as complex as data science.
Data science has a vast presence and you can find it in different areas like social media, eCommerce stores, digital sensors, videos, and much more. It is an incredibly dynamic field, and of course, you may feel quite intimidated when thinking about pursuing a career in data science. However, when you consider the variety of job prospects and ever-increasing demand for data scientists in different industries, you will realize that it could be an incredibly lucrative career path, particularly in 2021.
There seems to be a great deal of confusion about entering the data science field. Are you also wondering how to become a data scientist, but do not know how to qualify? Well, you will be happy to learn that almost anyone can enter the data science landscape as long as they participate in the right courses and have the correct knowledge.
Before we discuss the ins and outs of becoming a data science professional in 2021, let us discuss some fundamentals regarding the field itself.
Is there a Demand for Data Scientists in 2021?
More and more industries are becoming aware of the plethora of advantages that data science can offer. Because of this, the demand for data science experts has been rapidly increasing over the past decade. Business intelligence experts, data analysts, data visualizers, etc. are some of the names people use instead of data scientists.
These professionals are partly trend spotters, part mathematicians, and part computer scientists. This blend of skills makes them able to thrive in the IT and business world.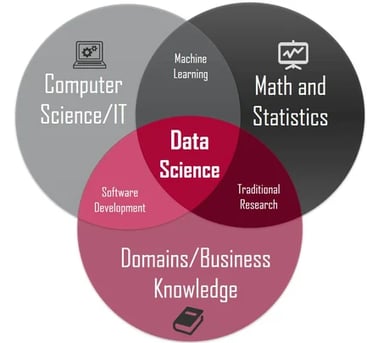 Source: Data Science Society
Here are the main tasks you will perform as a data scientist:
Maintaining dashboards and user friendly data bases
Gathering an ample amount of info and data
Building algorithms
Solving complicated problems by interpreting data
Presenting data to stakeholders with easily understandable visualizations
You don't necessarily need to land a data science job in your first try. However, if you have a passion of using numbers to tell stories, trying this field out whenever you want would be a good idea. The main qualities you will need to become a data scientist is a love for data and eagerness to understand modern concepts and technologies.
At present, there are tons of reasons why you should consider becoming a data scientist. Why? Because you can use data science in a variety of areas due to which a lot of companies across the globe are hiring these experts.
Industries with the Highest Demand for Data Scientists
Some of you may be wondering which industry data scientists work in, well the answer is simple – everywhere. As mentioned abundantly, the demand for these experts is present in almost every industry. However, let us narrow things down and discuss the industries that have the highest demand for data scientists.
Healthcare: Big data has become an essential part of modern healthcare, resulting in an increased demand for data scientists. In case you are wondering, big data is a vital enabler for discovering modern solutions, providing quality care and improving the overall efficiency of how most healthcare facilities operate.
Date scientists in the healthcare sector know all about Python, machine learning, statistics etc. Needless to say, you will need to work on your data mining to become a valuable asset to the healthcare sector.
Insurance, Finance and Banking: The insurance, finance and banking industry has arguably the highest demand for data scientists. In order to become a data expert in this field, you will need to acquire knowledge about how financial domains work along with information about profitability, portfolio management, risk analysis etc. You will require a three to four years of experience to become a data science in the finance sector.
Education: You'd be surprised to learn that data science is quite effective for helping students improve their academic skills. In addition, it also helps innovate class curriculums, analyze student requirements and gauging teach and student performance. Several universities, colleges, schools etc utilize data science for reducing drop out rates, understanding educational issues and much more.
Utilities and Energy: Data science and big data's transformative powers are quickly changing utilities and energy industry. Data analytics has proven to be quite effective for finding unconventional sources of energy, reducing the costs while saving loads of money that would otherwise be spent on needless exploration and drilling. What's more, data science also helps avoid power outages, improve productivity, avoiding accidents, and much more.
Communications and Media: Media giants like Netflix, Amazon Prime, YouTube etc were among the first in implementing data science and taking full advantage of it. This helped them offer customers with personalized recommendations, helping them find the content they liked. Because of this the communications and media industry became heavily reliant on data analytics, resulting in an increased need for skilled data scientists in the media and communication playing field. In this industry, data scientists utilize artificial intelligence and machine learning as strategies to determine a company's entertainment and media initiatives.
Retail: Despite the global pandemic and the layoffs and closures resulting on it, the demand for data science experts remains high in the retail world. Improving relevance and personalization helps the customer centric retail industry comprehend the buyer's patterns and behaviours by utilizing data.
Manufacturing: Data science has quickly becoming crucial for manufacturers in the present day, as it offers loads of benefits. If you aspire to have a lengthy career as a data scientist, opting for the manufacturing industry would be a great idea.
Top 4 Data Science Designations
While data science is incredibly popular these days, it is still emerging and there is very little precedence when it comes to designations or titles. This is because most companies are flexible with career paths and profiles. Therefore, a large number of aspiring data scientists face a fair bit of difficulty when trying to identify job profiles that would suit their skills. That said, here is a look at four essential designations in this field:
1) Data Scientist
The role of an out and out data scientist is arguably the highest in demand. Business intelligence professionals and market analysts are also a couple of terms used in place of data scientist. Finding key insights by comprehending raw data and explaining it in an easy to understand way, are a couple of primary tasks that you will be performing as a data scientist.
In addition, data scientists have to identify patterns, develop models for machine learning, and determine data trends. Aspiring scientists must brush up on their mathematics, data modelling, statistics, R programming, or Python skills.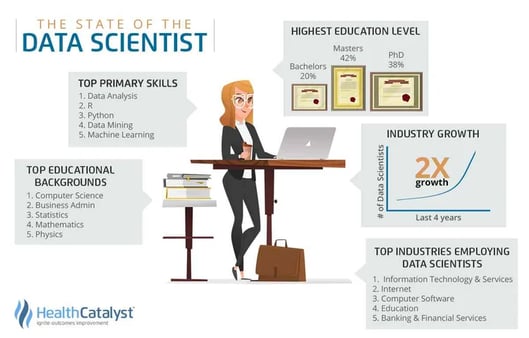 Source: HealthCatalyst
2) Data Analyst
The terms "analytics professional" or "business analyst" are often used to describe a data analyst. Many organizations use these designations when they require individuals with highly technical skills. The main job of a data analyst is to leverage a company's data for gaining actionable insights to make vital decisions.
If you want to become a data analyst, consider honing your presentation skills, database-cleaning skills, R or Python Program etc.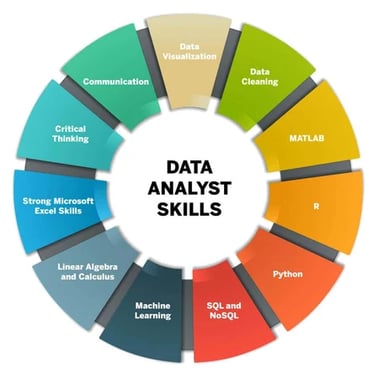 Source: Columbia
3) Data Engineer
Also known as quantitative analysts or data architects, data engineers are often the backbone of an organization as the main purpose for hiring them is to work on software development. Besides the basic business acumen and presentation, a data engineer should be familiar with R programming, Python, database management, and Hadoop.
As a data engineer you will collaborate with the organization's core infrastructure and will be responsible to maintain data flow, making sure the correct department gets relevant information.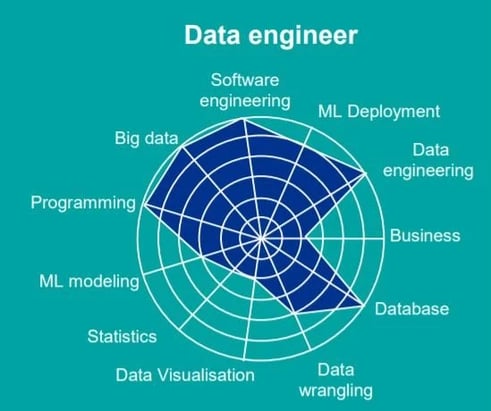 Source: 7wData
4) Business Intelligence Developer
Also referred to as systems analysts or machine learning engineers, a business intelligence developer must have a clear understanding about the fundamentals of IT and the analytics department. The key responsibilities of a business intelligence developer is to maintain, deploy, and develop business intelligence interfaces including interactive dashboards, data visualizations, ad hoc reporting, data modelling tools, query tools an much more.
Consider brushing up on your R programming, Python, Hadoop, Github, and fundamental machine learning techniques to excel in a career as a business intelligence developer.

Source: altexsoft
Do You Need A Degree To Become a Data Scientist?
Instead of degrees, this field prioritizes your experience and skills. You'd be surprised to learn that some of the most renowned data scientists possess non-technical degrees. For instance, the founder of Hadoop graduated in the field of linguistics. That said, you still require a relevant degree to excel in this field. It will help you significantly, but you must also master other skills like programming, business acumen, maths etc.
You can indeed understand data science without an advanced or even bachelors degree, bit most job opening ask participants to present a PHD or degree in engineering, statistics, computer science or mathematics.
If you are planning to break into this vast field without a degree, consider participating in online courses to get a certificate. Alternatively, you can also enrol start learning relevant programming languages like SAS, SQL, Python and R.
What's The Data Science Jobs Scenario Worldwide?
It must be abundantly clear by know that data science's role in an organization's overall success is critical, not matter regardless of the industry or size. It is one of the reason why there has been a massive increase in data science jobs over the past few years.
Analytics Insights suggests that the data science market could become a multi billion dollar industry by 2023. The United States has the highest number of data science professionals across the globe. What's more, the famous online job search company Glassdoor claimed that data science jobs had a high percentage of job satisfaction because of its tremendous salaries.

Source: glassdoor
While the economy is still feeling the effects of the global pandemic, the data science job market in the United States continues to be a ray of hope, with more people planning to enter this field.
How To Start Your Data Science Career In 2021?

Do you have a passion for data science? Do you like converting raw data and use it to solve complex problems? If yes, then you should consider going after a career in this field in 2021. Below, you will learn about the fundamental skills required to enter the data science world in 2021.
Mathematics (Statistics, Probability, Calculus)
You must have sound fundamentals to become a successful data scientist. Understanding niches like liner algebra, calculus, probability, and stats will help develop your foundation for this field. It would also help if you acquired detailed knowledge regarding the terminologies used in this field.
Mastering these skills will prove to be quite effective for developing data analysis estimates. You can learn these skills in advanced high school mathematics and online data science courses.
You may also like: Top 10 Tips to Ace Your Interview Like a Pro
Database Knowledge (Oracle, MySQL, Cassandra)
As you may know, most of the data across the globe are present in databases, so gaining knowledge about databases like Cassandra, MySQL, and Oracle could prove crucial for aspiring data scientists. As a data scientist, you will be responsible for handling loads and loads of databases, which is why you must learn to become comfortable when accessing data.
It would also help if you had a basic understanding of developing and incorporating databases, along with the pros and cons of various database management systems. Luckily, you can access a multitude of online sources to learn how to take care of different databases. However, enrolling yourself in a data science boot camp may prove to be a great idea to succeed professionally.
Programming Expertise (Python, R, SAS)
It wouldn't be a far stretch to claim that learning Python is incredibly effective in the data science world. Why? Because it is a multipurpose, object-oriented language. In addition, once you learn how to implement this programming language in applications and websites, you can become a tremendous asset for companies.
Learning python is a must for anyone who wants to have a career in data science. That said, there are a couple of other programs like SAS and R that will also help you progress.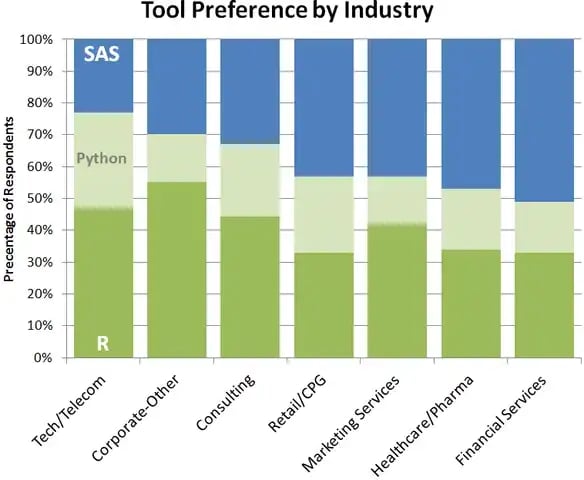 Source: Springboard
You will find a decent amount of reputable online courses, boot camps and certifications to learn a programming language that you prefer.
Data Engineering (Data Preprocessing, Data Wrangling)
Data engineering is a critical part of the data science field. It focuses on practical usage of data analysis and collection. Having a firm grip on data engineering methods like data wrangling and data pre processing is essential to collect and understand data. There are a lot of inconsistencies in real worlds data. You will find a plethora of errors and lack of trends.
However, by utilizing data engineering techniques, you gain the expertise and skills to solve these problems and convert the data to actionable insights. Remember, gaining deep learning skills overnight is next to impossible. Therefore, you should consider following tutorials and courses to acquire practical knowledge.
Machine Learning (Supervised Learning, Unsupervised Learning, Reinforcement Learning)
Machine learning is a critical part of any organization that handles loads of data every day. While not every company requires you to have machine learning expertise, having some know-how about unsupervised learning, reinforcement learning and neural networks will be highly beneficial.
Learning machine learning algorithms could take a decent amount of time. However, the knowledge will pay dividends later on, once a company employs you for a data scientist position. What's more, acquiring this knowledge will diversify your skill set as a professional and put you in a better position to negotiate with your employers.
Deep Learning (Tensorflow, Artificial Neural Network, Deep Belief Network, Generative Adversarial Network)
Deep learning is a part of machine learning and it helps you analyze and understand large quantities of uncategorized or unsupervised data. Possessing expertise in techniques like deep belief network, artificial neural network, and Tensor flow could help you simplify complex tasks like data tagging, extracting insights, and retrieving information in a short period.
Consider joining a data science course to learn particular deep learning techniques and enhance your skills with videos and tutorials from industry-recognized experts.
Data Visualization (Tableau, Qlikview)
Many companies produce data in mass amount, and in most cases, they need someone to translate an visualize it into an easy to comprehend format. This is where a data scientist's skills come into play. You'll need to have thorough understanding of several data visualization tools like Qlikeview and Tableau to make your data science projects easy to understand for others.
Data visualization tools can help you perform loads of tasks like converting data to visuals, charts, reports, graphs, and much more. These come in quite handy for companies when making decisions.
Big Data Analytics (Hadoop, Spark)
Big data analysis is a renowned technique for gaining actionable insights through hidden patterns, market trends, studying various correlations etc. Spark and Hadoop are critical big data analytic frameworks that will help you run several data science algorithms in a much shorter period.
You can save yourself a great deal of time by knowing about these techniques, as it will allow you to handle massive amounts of data with minimal hassle. These technologies can also assist you with swift data filtration, exploration, summarization, and sampling.
Besides the skills discussed above, you must also brush up on your interpersonal and communication skills to land your first data science job. Remember, the more up-to-date you are about the ins and outs of data science, the higher the probability of you getting hired. So, ensure that you join relevant groups, courses, and certifications to acquire more knowledge and stay motivated.
Do I Need a Degree for a Data Science Job?
No, you don't need a degree to land a data science job. However, you will need to work incredibly hard to gain knowledge about this field. Learning to code, analyze, model, and work with different types of data without fundamental knowledge can be very difficult, but it isn't impossible.
If you have all the knowledge needed to land a job as a data scientist but aren't able to find one, there is no need to worry. In most cases, getting hired for the first time in this field can be tough. However, once you prove your worth, the wait will be worth it.
Grey Campus has a tremendous data science course that you can enroll in. It is free of cost and will help you learn the basics of statistical skills and foundational coding, setting you up for a successful career in data science.
Final Thoughts
The demand for data science pros these days is great, and you will find no shortage of opportunities in the current job market. This guide discusses everything you need to know to become a data scientist in 2021. Follow the advice and tips mentioned in it, and a career in data science will just be within an arm's reach.
Sign up for OdinSchool's Data Science Bootcamp to kickstart your career in Data Science!