Stuck at a Service Company to a Successful Machine Learning Engineer!
Stuck at a Service Company to a Successful Machine Learning Engineer!
After an year of extreme hard work and determination, Faviana Noronha is now a successful ML Ops engg at Cotiviti. She is also on her way to do a PG diploma in data science from IIIT-B.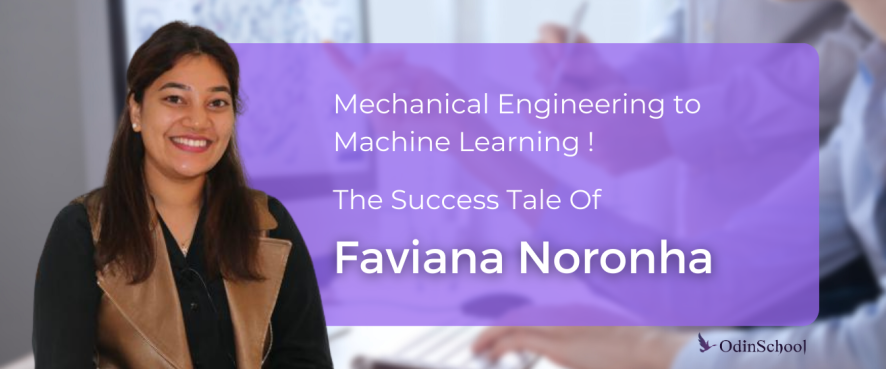 Faviana graduated in mechanical engineering in 2019. After graduation, she joined Infosys as a system engineer which was just before the pandemic.
How Faviana Navigated Towards Data Science and OdinSchool?
Just after graduation like most of us, Faviana was not very sure of her career path. She just knew that she wanted her work to make a difference. With the pandemic hitting and lockdowns everywhere, Faviana got the required time to think over her career. She started exploring different career paths and that is when she stumbled on information about 'how machine learning (ML) is transforming almost everything in the world. Faviana got almost intoxicated with this information and dug deep.
Now, that career path was decided, Faviana started exploring various online courses that could teach her ML and pursue a career in it. She wanted a course that could teach her everything from scratch and help her with placements as well. Her search zeroed in on OdinSchool where she got inspired by the success stories, especially the candidates who have non-CS/IT educational backgrounds.
Aeronautical Engineer to a BI Analyst @ Blend360 with 10 LPA!
Faviana's Journey at OdinSchool
Faviana says," At the beginning, I was shy and did not answer any questions. But our mentors were very focused and helped me gain confidence. They used to know each and every one of us by name. There's an element of healthy competition within the cohort that boosted my motivation to study. And then there were talks from various industry experts that were extremely insightful. There was a lot of focus on the interview. We used to have interview sessions frequently and we had to be ready for them. So I think the experience was pretty amazing. The process was difficult, but nothing worth doing is easy. I had a wonderful time and I am happy that it culminated in a dream job." Source
Faviana's Learnings and Advice to All the Freshers
You need to learn and practice the subject continuously. This is my favorite quotation by Anthony Robbins - "It's not what we do once in a while that shapes our lives. It's what we do consistently."
Focus on Kaggle for different data sets to practice.
There is a high probability for the non-CS candidates of getting demotivated at various junctures through the course. Hence, at all possible times never ever let 'depression' get you. Nobody is going to come and motivate you.
This is a big myth - Most of interviewers look out only for the experienced candidates. Not true. Interviewers also look out for freshers with strong fundamentals of their subject.
All the interviews are typically centered around your projects. Interviewers check your technical knowledge through the projects. So, focus more on your capstone project.
Found this story inspiring? Want to build your own version of this career success story? Join OdinSchool's Data Science Bootcamp today!