Data Science Roadmap For Beginners
Data Science Roadmap For Beginners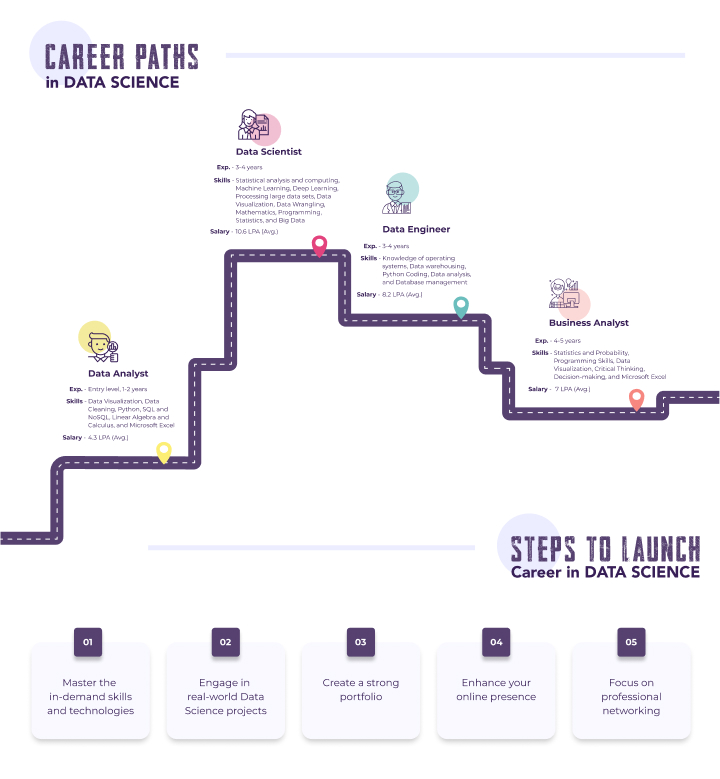 As the name implies, data science is the area of study that investigates enormous volumes of information by using modern tools and techniques in order to find unseen patterns, derive meaningful information, and make business decisions based on that information. Predictive models are built using complex machine learning algorithms in data science. The data used for analysis can come from many different sources and be presented in a variety of formats.
A wide range of professional paths and possibilities are available within the discipline of data science. It's quite okay to be uncertain about the purpose of each job role. If you are wondering how to get a job in Data Science, here is a Data Science roadmap for beginners.
Is Data Science still in demand in 2023?
India is currently one of the largest hubs of Data Science in the world. Due to the very same reason, the future of Data Science in India seems bright this year and for the foreseeable future. In the digital era, data is money. Businesses want to increase their profit, so they collect data about their customers to serve them better. But to make the best out of that data and understand their customers, businesses need data science professionals. Data science professionals analyze customers and use that information to help businesses make more money.
Some of the prominent career paths in Data Science include the following:
1. Data Analyst
In the field of data science, this position is frequently referred to as the 'entry-level Data Science job'. The task of a data analyst is to gather information from multiple sources, analyze trends, and present it to the stakeholders in an understandable fashion. Large data collections are transformed and manipulated by data analysts to meet business needs. A data analyst suggests several strategies and tactics that might aid a business in enhancing the caliber of its data systems.
2. Data Scientist
Data scientists architect data models for prediction, find trends and patterns in data, visualize them, and even contribute to marketing strategies. According to American mathematician and computer scientist DJ Patil, the role of a data scientist is 'a unique blend of skills that can both unlock the insights of data and tell a fantastic story via data'. The data scientist interacts with stakeholders to identify business problems, ask the right questions, make the most of available data, and share analysis and results with them.
3. Data Engineer
Another well-known job path for a data scientist is that of a Data Engineer. A data engineer is responsible for building, maintaining, and managing data pipelines that aid in constantly making information accessible to data scientists. They devise innovative and cutting-edge solutions to handle the growing complexity and variety of data. Data Engineers collaborate closely with product managers, analysts, and front-end and back-end engineers.
4. Business Analyst
Data analysts and business analysts have a lot in common, but they also operate and function very differently. Business analysts are more knowledgeable about the activities and procedures of business domains; as a result, they assess & prepare actionable insights by diving deeply into it. Data analysts frequently benefit from the assistance of business analysts by receiving their business insights, domain knowledge, etc.
Responsibilities of a Data Science professional:
To start the information discovery process, ask the correct questions.
Collect data, clean up and process the data.
Combine and save data
Preliminary data analysis and exploratory data analysis
Select potential models or algorithms.
Apply data science methods like artificial intelligence, statistical modeling, and machine learning.
Analyze and improve results
Present the results to the stakeholders with the right visualization
Make changes based on feedback
Repeat. (Collect, Crunch, Repeat)
What is the average salary of a Data Science professional?
As per the reports from the survey conducted by Ambition Box on 18k people, a Data Scientist's salary in India ranges between ₹ 4.5 Lakhs to ₹ 25.3 Lakhs with an average annual salary of ₹ 10.5 Lakhs. The survey reports also suggest that people with an experience of 1-2 years earn an average salary of ₹ 8 Lakhs.
Data Science roadmap for beginners:
If you are a complete beginner in the domain of Data Science, follow these steps to launch your career:
Master the in-demand skills and technologies





One needs to build the necessary foundation in order to pursue a career in Data Science. Even if you are from an unrelated non-technical background, you can transition to this field with dedication and hard work.

Data Science is a high-level career, thus before you specialize to that extent, you should have a solid foundation of expertise in a related area. This could be in the fields of mathematics, engineering, statistics, data analysis, programming, or information technology.

Top must-have skills to become a Data Science professional:

Source: KDnuggets



Engage in real-world Data Science projects



Once you've found out how to ask the proper question, you're all set to study the technical abilities required to answer them. Mastering Python programming fundamentals before diving into data science is a strong recommendation.

Python is a popular choice for new programmers because of its consistent syntax. Additionally, it is adaptable enough for really difficult data science and machine learning tasks, such as deep learning or artificial intelligence based on big data.

Many people stress about which programming language to select. However, the following are the most important considerations

Data science is not about tools; it is about addressing issues and generating corporate value. It's more crucial to learn the concepts than the syntax. In a real data science position, you'll build projects and share them, so learning in this manner will give you a good start.

Where to learn Data Science?

One of the easiest ways to learn data science from scratch is to join a Data Science Bootcamp. OdinSchool has a proven track record of placing freshers, working professionals, and professionals with long career gaps at leading companies such as PepsiCo, Capgemini, Indegene, Prolifics, and so on.

Python books for self-paced learning – refer to the book that teaches you the fundamentals of Python, as this programming language is one of the most important languages in Data Science.

Python Documentations – Python, has free tutorials.


Create a strong portfolio

You should start creating projects that provide fascinating answers while you are learning the fundamentals of coding. You don't need to construct complicated projects. For example, use the dataset Supermart to see through the patterns.

Keep the following in mind while you complete your projects:
1. Data cleaning is the main task in data science.
2. Linear regression is the most-used approach to machine learning.
3. Everyone has to start somewhere. Even if you think your work isn't very good, it's still worthwhile to put some effort into it.



Enhance your online presence



Once you complete your projects, share them on online platforms such as GitHub. Sharing the projects online is one of the best ways to communicate your projects, much as you would in a data science position. It invites input from your peers and makes you seen before potential employers. Additionally, you should consider blogging. Writing blog posts benefited me as it allowed me to pique the interest of hiring managers, learn subjects in-depth (the process of teaching really helps you learn), and establish myself as a thought leader.



Focus on professional networking



Engaging with other data science professionals is a good way to advance your career. This can be done in real life or in online communities. It is one of the best ways to strengthen your professional profile.

Good networking can help you find great opportunities and connect with industry experts.
Is a degree in Data Science necessary? Are bootcamps worth it?
No, you don't need a degree to become a Data Science Professional. Data Science Bootcamp is the best choice for beginners to learn data science and build a career in the field. These programs are intensive, and hands-on, and prioritize skills over theoretical knowledge. Bootcamps start from scratch, enabling even professionals from other fields to transition to Data Science.
OdinSchool's Data Science Bootcamp is an immersive, industry-aligned 9-month program with a Data Science job as the outcome. The Bootcamp includes live interactive sessions, career services, and placement assistance.