Blog
The Story Of A Full-Time Mother Who Relaunched Her Career After A 6-Year Break
The Story Of A Full-Time Mother Who Relaunched Her Career After A 6-Year Break
"As a full-time mother, it hadn't occurred to me that I could have a sense of purpose outside my household. Though it was entirely fulfilling to nurture my child and see him grow up, I did not work for 6 years. If I hadn't shown the tenacity to relaunch my career, I might still have been a full-time mother with a degree."
These are the words of Visweswari Pitchika, a trailblazer from Kakinada, Andhra Pradesh, who launched her career after a 6-year hiatus. Today, she is a Senior Analyst at Capgemini, one of the finest IT organizations in the world.
With an MCA background and a 3-year work experience where she couldn't use her potential to the fullest, her transition to the in-demand field of Data Science was brought about by her sheer determination and the support of her significant other, Pradeep.
"Between my child and the household chores, I hardly had the time to focus on my career. My career aspirations slowly faded into the background. When I finally planned to relaunch my career, the field had drastically evolved, making my skills outdated in the process. This is when I realized the importance of upskilling."
Enter Pradeep, Visweswari's husband and strongest ally, who offered her the unconditional support she needed to re-launch her career.
"Though not deliberate, I felt guilty and responsible for confining her to the four walls of our house. In moving to the US together and building a family, I inadvertently took good opportunities away from her. After we welcomed our first child, she quickly donned the role of a full-time mommy. Even though we were happy, the very fact that our marriage compromised her professional life did not sit well with me."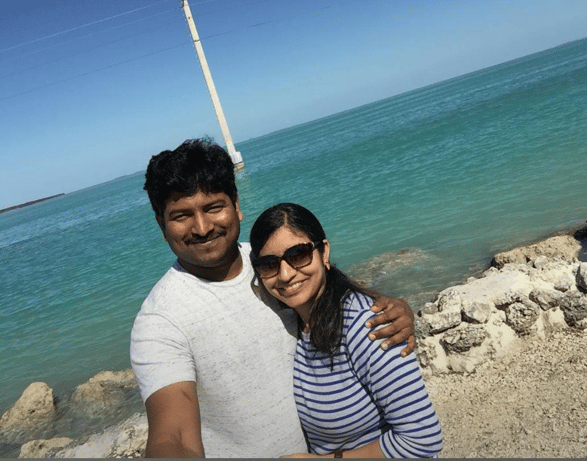 Pradeep was elated when she decided to pursue OdinSchool's Data Science Bootcamp. Unfortunately, the 6-year gap in her career had left her with a lack of confidence and strong uncertainties about re-entering the workforce.
"Although I signed up for the Bootcamp, I was very apprehensive. But the initial live classes put me at ease as they started from the very basics. Cheers to Team OdinSchool for encouraging me whenever I hesitated to submit my assignments or deliver presentations. The confidence boost they gave me is commendable. The instructors were always open to resolving doubts, no matter how trivial they were."
When asked about the placement experience at Capgemini, she recalls, "My fear of re-entering the industry had overpowered me. But OdinSchool's mock interviews and career services instilled in me the courage I needed to face interviews again."
Visweswari's success story inspires women to pursue their career goals in a society where social expectations hold them back. She proves that women have plenty of opportunities and can achieve great things in their careers if they have the passion and the dedication to see it through.