The surge in data science jobs due to COVID-19: Why are they easier to crack now?
Businesses and industries are grappling with the Coronavirus crisis. Amid this fallout, some advanced technologies such as data science, machine learning and artificial intelligence become mainstream in India. So is the surge in data science jobs, making them easier to crack.
Undeniably, COVID-19 has wreaked havoc across the globe. The extraordinary impact on countries, businesses, and individuals brought the world to a screeching halt. The economic impact is seen as the worst recession fallout since the Great Depression of 1930. As the Coronavirus pandemic spreads across the globe, millions of people are deeply affected. India is no different.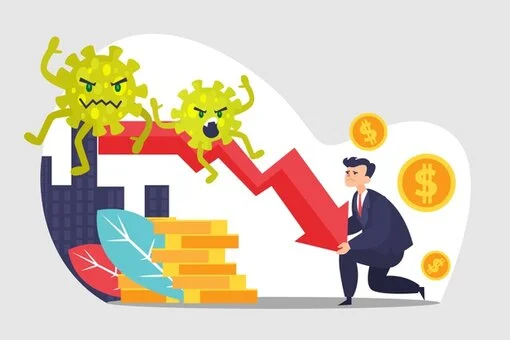 The ripple effects in this uncertain landscape are seen in a wide range of industries. Aviation, travel, tourism, and hospitality are worst-hit. Others ranging from telecom, automobiles to consumer electrics are also badly affected.
While industries are grappling with the crisis, some advanced technologies such as data science, machine learning, cybersecurity, and artificial intelligence have become mainstream in India. The government as well as industries are relying on trusted, quality data to wade across the adversities.
Data science is one such technology helping organizations with innovative solutions. If you are considering
how to become a data scientist
, now is the best time to crack the data science job interviews.
Data science will play a critical role in building a new normal. In the current environment where misinformation proliferates and organizations must make decisions quickly, accessing timely and accurate data becomes vital. As a result, the data science job postings are on a surge during this pandemic and beyond.
The exponential adoption of data science during COVID-19 – responsible for the surge in data science jobs
The adoption of data science enables senior executives to gain ready access to new and critical data. Industries at the forefront are relying on the data in numerous ways to change their business strategies and operational plans.
The recent increase in the demand for data scientists is because businesses need to rethink their existing models.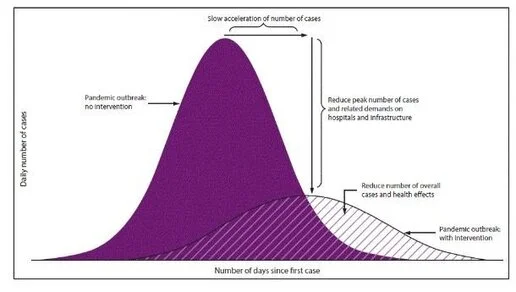 For example, in the healthcare sector, AI is playing a pivotal role in mitigating, detecting, and diagnosing the virus. Data science is being used to predict the evolution and track the spread of infections. Research on drug discovery is fast-tracked by analyzing the available data. Technology is being used to slow down the spread of the infection via contact tracking.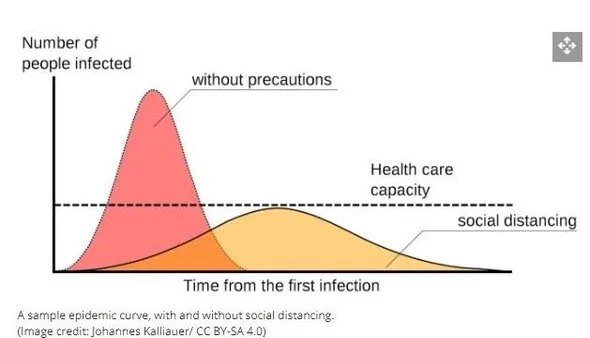 Early in March, scientists used data science to prepare this graph predicting the spread of the COVID-19.
Alongside, data science is revolutionizing industries to support their business resilience. To continue working amid the prolonged lockdown, numerous industries digitized their products, services, and offerings to reach their customers through online channels. The education sector started using AI, reinforcing that even conventional systems had to transform into becoming technology-driven. The AI-powered machines use data science to enable educators to track student performance and identify gaps in the teaching strategies.
With the sudden reduction in the branch footfall, banks had to leverage AI-enabled chatbots and virtual assistants to improve their customer service, reduce costs and address the increasing customer queries. Banks have transitioned to remote sales and enhanced their digital outreach to customers, help them manage debt, upsell and cross-sell. Suddenly, with the massive amount of data collected, the banking and financial sector has started analyzing the data and its patterns to provide personalized service.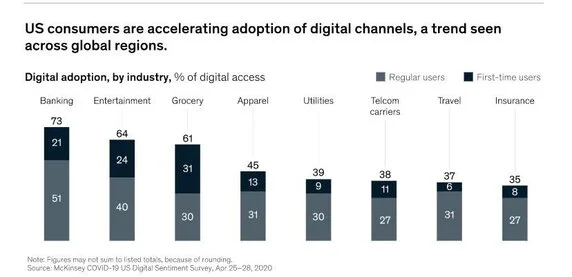 The percentage of digital access as per a McKinsey survey.
The current crisis has provided an opportunity for every sector to improve its data science capabilities to help customers. Data science improves decision-making.
To bridge this demand, companies are hiring data science talent in statistics, mathematics, and data storage skills.
What are the career options in data science? The different roles and salaries
A data science professional possesses skills for collecting, analyzing, and processing a large set of both structured and unstructured data. In today's world of digital transactions and transformation, every organization collects a large amount of data in its operations every day. The data scientist's role is to analyze this data and interpret the results. The end goal is to find actionable insights that the organization can benefit from.
With 2.5 quintillion bytes of data being processed daily, the data science professional has to organize and analyze this data so that it can drive profitable business. For instance, e-commerce brands use data science to remind their customers of monthly purchases. If you buy shampoo every month, you will notice strategically placed ads around the website at the same time of the month prompting you to make the purchase.
The role of data science includes business analysis and is responsible for building data products and platforms. It is a combination of mathematics, computer science, and statistics. Considering these benefits, a career in the dynamically expanding data science industry is a good choice.
Data science job roles
Almost every industry is adopting data analysis for their growth, including FMCG, logistics, supply chain, and more. For data science aspirants, here are some of the career choices:
#1. Data scientist
The key role of a data scientist is to explore multiple data patterns to measure the impact on the company. An important requirement is their ability to explain data in a simpler way that can be understood by the stakeholders. They are expected to know programming languages (R, Python, SAS, SQL, and Hive) to solve complex technical problems.
An entry-level data scientist with less than one year of experience can earn around INR 5,00,000 per annum in India.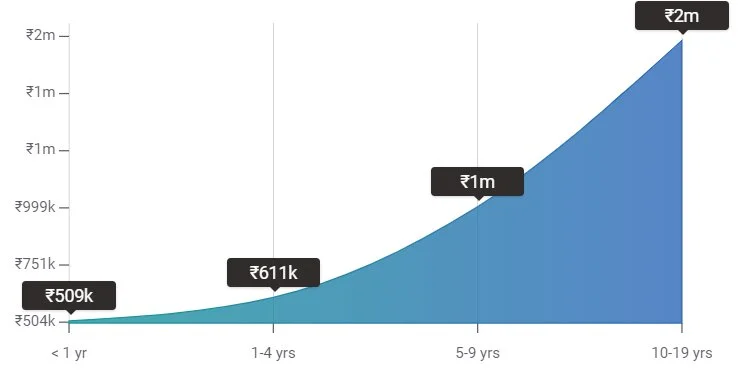 This graph shows the salary scale for data scientists based on experience.
#2. Data analyst
A data analyst analyses data to find out market trends. These results provide a clear picture of the company's standing in the market. The data analyst translates numbers and statistics into plain English, accompanied by visualization for everyone to understand.
The role of a data analyst is fluid and used by multiple departments. The marketing department may require data analysis to understand customer behavior for their marketing strategies.
The salary for a data analyst in India ranges from INR 3,96,000 to INR 9,00,000 a year.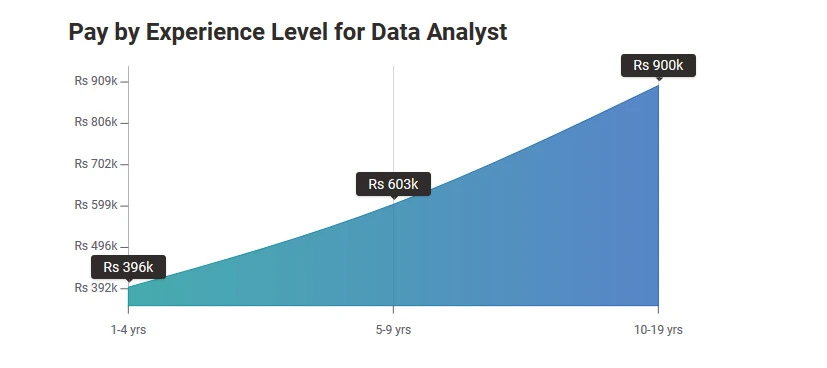 #3. Data engineer
The data engineer is equivalent to being the backbone of the company as they work with the core of the organization. They build, design, and manage databases. They are responsible for building data pipelines, enabling the right data flow, and ensuring that the data reaches the right department.
The average salary of a data engineer in India is INR 8,00,000 per annum.

#4. Business intelligence analyst
The role of a business intelligence analyst is to act as a bridge between business and IT, helping them improve by analyzing both the market and the business trends. The analysis is crucial in maximizing the organization's efficiency.
The average salary of a business intelligence analyst in India per year is INR 5,60,000.

#5. Marketing analyst
The marketing analyst helps the marketing department analyze the products that need to be produced in large quantities and which ones to discontinue. They monitor customer satisfaction report to improve the products and services. They use data for product personalization.
Per annum, the average salary for a marketing analyst in India is INR 4,20,000.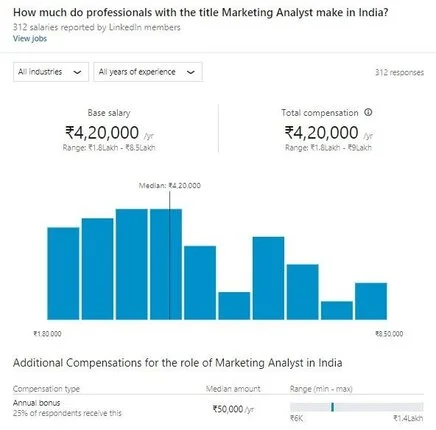 India is the second-largest country recruiting employees in the field of data science, second to the United States. With COVID-19, the demand for data experts and data scientists is increasing in all sizes of companies, be it multinationals, e-commerce, and even startups.
With the right skill sets and certification courses, your career as a data scientist will only grow further.
What are the technical skills required to build a career in data science?
A data scientist should be knowledgeable about analyzing data along with programming skills. The desirable skills for a data science professional are:
Technical skills – The basic acumen in mathematics, computer programming, and statistics is a must-have to be a successful data scientist. Additional skills include:
Proficiency in programming and coding languages

Knowledge of analytical tools such as HADOOP, Spark, SAS, and R which are commonly used by data scientists

The ability to manage unstructured data gathered from multiple channels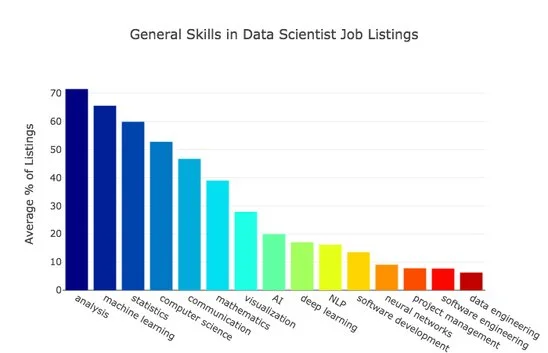 The non-technical skills required to be a team player are good communication skills, data intuition, and business sense.
How to learn data science? An online certification course in data science from GreyCampus
A
certification course
is the first step in the job search. Doing certifications can boost your chances of receiving a job interview. The
Odinschool's Online Data Science Bootcamp
is in collaboration with IBM. The course is designed for beginners having little or no knowledge of data science. The audio and video lectures gear the learner with a conceptual understanding of the role of a data scientist, the tools they use, and how to make sense of the data using statistical processes.
What data science graduates should do to get hired during COVID-19?
The news of graduates getting hired for data science positions is mildly reassuring during this pandemic. If you are looking to build a career in data science, these 5 tips will help you gain the attention of recruiters.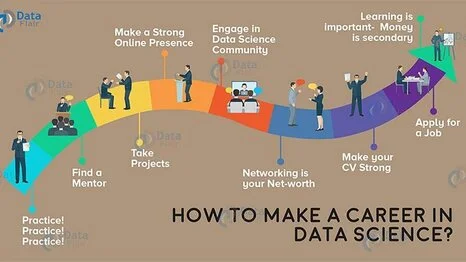 #1. Filter your search
Sectors such as tourism and hospitality are struggling to survive. On the other hand, healthcare, technology and banking, and financial services are doing well. They are more likely to build their data science capacity by hiring more candidates.
A good practice would be to research the companies doing well instead of randomly sending resumes. After preparing a list of potential hiring companies, find out if they are hiring and reach out to them.
#2. Signup on portals where jobs are regularly being posted
Portals such as LinkedIn, Glassdoor, Indeed, AngelList, and Monster have become commonplace for companies to post their vacancies.
Register on these job portals and update your profile across these platforms.
#3. Build relevant skills
Data science is an ever-evolving field where you need to continuously learn new skills and technologies. Take up
online courses in data science
to add a level of competence to your profile. This automatically makes you a more attractive candidate.
#4. Network aggressively
Although the door of job fairs is closed for now, webinars and online events are nowhere close to stopping. Attend them, build connections with people who are in the data science industry. Let them know that you are a fresher in data science looking for a job opening.
#5. Consider freelancing and internships
As landing a job is not under your control, be open to accepting short-term, freelancing, or internship jobs. Such an experience could give you the confidence and technical know-how that you could be lacking as a beginner.
Build a resilient career in data science
Traditionally, data science was a good-to-have technology for many industries. With the onset of COVID-19, most sectors are improving their data science capabilities. Increased digitization has led to a large amount of data being gathered. Imagine the actionable insights this data is poised to uncover! For those looking to build a career in data science, now is the best time as the jobs are easier to crack.
Summarising how to build a career in data science
For a fresher to build a career in data science, the steps to follow are:
Take up an online course
Network aggressively
Build relevant skills
Don't shy away from interning, freelancing, or taking up short-term data science projects
Filter your search industry-wise
Register and apply through LinkedIn and job portals